3rd National Works on Paper Juried Exhibition. 18th October – 12th November 2021.
Gittins Gallery, University of Utah, Salt Lake City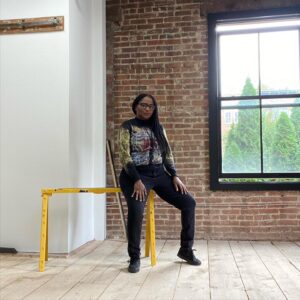 Juror: Sam Vernon. www.samvernon.com Sam Vernon is a visual artist who earned her MFA in painting and printmaking from Yale University. Her installations combine Xeroxed drawings, photographs, paintings, and sculptural components in an exploration of personal narrative and identity. Recent solo exhibitions at venues include: San Francisco's Museum of the African Diaspora; UT Downtown Gallery, Knoxville, Tennessee; G44 Centre for Contemporary Photography, Toronto; and Seattle Art Museum, Olympic Sculpture Park. Her work has been part of groups exhibitions at, among other institutions, California African American Museum; San Jose Institute of Contemporary Art, and the Barney Savage Gallery and The Cooper Union, New York. Honors received include San Francisco Artadia Awards finalist; Sally and Don Lucas Artists Program (LAP) Visual Arts Fellowship; Artistes en Résidence, Clermont-Ferrand, France; Fountainhead Residency, Miami; Helen Watson Winternitz Award, Yale University; Emma Bee Bernstein Fellowship, A.I.R. Gallery, Brooklyn, and A.I.R. Gallery Emerging Arts Fellowship.
Collaborative projects include visual art contributor to The Arsonist, a play by Mai Sennaar, at Museum of the African Diaspora, San Francisco; Broadside Press, with poets Danez Smith and Nathan McClain; and Black Women Arts for Black Lives Matter, New Museum, New York; and performer, Ganggang: Creative Misunderstandings Series, organized by Alejandro Guzman, Brooklyn Museum. Vernon has been a panelist, moderator, or guest lecturer at, among others, San Francisco State University; University of California, Berkeley; Watkins College of Art, Nashville; Utah State University; Barnard College; Union College; and Voelker Orth Museum, Queens, New York.
The 63 artists selected this year are: Brett Anderson (IN), Byron Ashley (TX), Peter Baczek (CA), Gary Barton (UT), Molly Bernstein (KS), Laura Bigger (MO), Douglas Bosley, (MI), Jayes Caitlin (CA), Kevin Campbell (CA), Dennis Carroll (CT), Kyle Chaput (TX), Rob Chipman (UT), Cathie Crawford (IL), Jacob Crook (MS), Brittney Denham (WY), Benjamin Ehrmann (CA), Steve Garst (IN), Ronald Gonzalez (NY), Jessica Gross (NM), Larry Hanson (UT), Kevin Haran (FL), Carol Hayman (TX), Marco Hernandez (KS), Yuji Hiratsuka (OR), Dawn Hunter (SC), Jayne Reid Jackson (WI), Ashley Mykel Johnson (UT), Erin Kruel (WI), Matt Kuhlman (WI), Danielle LaPlante (MA), Lujiang Li (NY), Jonathan McFadden (KY), John McKaig (PA), Nick Mendoza (OK), Claudine Metrick (NY), Cinque Mubarak (CA), Chris Pavlik (DC), Jelisa Peterson (TX), Marianne R. Petit (NY), Thomas Pickarski (NY), Jennifer Printz (FL), Russ Revock (OH), Jacoub Reyes (FL), Catherine Rozmarynowycz (OH), Nicholas Ruth (NY), Eleanor Sabin (CO), Blake Sanders (MO), Carrie Scanga (ME), Jennifer Scheuer (IN), Amy Schissel (FL), Grace Sippy (MN), Mike Sonnichsen (ID), Whitney Staheli (UT), Richard Taylor (UT), Nicholas Tisdale (AL) Chadwick Tolley (GA) Lisa Turner (WA), Amy Ungricht (NY), Joshua Unikel (TX), Clark Valentine (CO) Jen Watson (UT), Brandon Williams (TN), Clinton Whiting (UT).