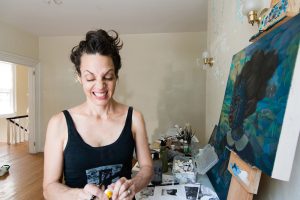 Lori Nelson, 2017 Distinguished Alumnus
Artist Website
Originally from the West, Lori Nelson is now a Brooklyn-based painter whose narrative work incorporates aspects of traditional portraiture, Magic Realism, and vintage storybook illustration. In her ongoing "Cryptotween" series she explores the vulnerability and essence of what it means to be young and monstrous.
Since graduating with a BFA in Painting from the University of Utah in 1993, Nelson has exhibited her work internationally, including recent solo shows in Brooklyn and Los Angeles. Her work has been widely covered in a variety of media including Vice, Hi-Fructose, Juxtapoz, and Flavorwire with an upcoming multi-page editorial feature in the print edition of Beautiful Bizarre Magazine. For seven consecutive years, Nelson has worked in different capacities with 4heads, the New York City nonprofit organization that produces the annual Governors Island Art Fair. Among her duties, Nelson currently serves as the Director of the Artist in Residence program and Director of the art fair's small-works pop-up shop.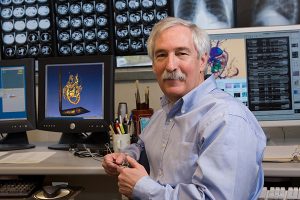 Brad Smith, 2016 Distinguished Alumnus
Artist Website
Brad Smith recognized early that he wanted to practice and study both the visual arts and the life sciences. He graduated from the University of Utah in 1980 with a Bachelor of University Studies degree, allowing him to study both disciplines. He went on to get his MA in Medical Illustration at Johns Hopkins and a PhD in Anatomy and Developmental Biology at Duke University.
He's produced visualizations for National Geographic, BBC, PBS, CBS, and the Discovery Channels. He also developed the earliest methods using MRI to study embryos, and published more than 20 manuscripts in scientific journals. He is currently Professor in the Stamps School of Art & Design, and Research Professor in Radiology at the University of Michigan.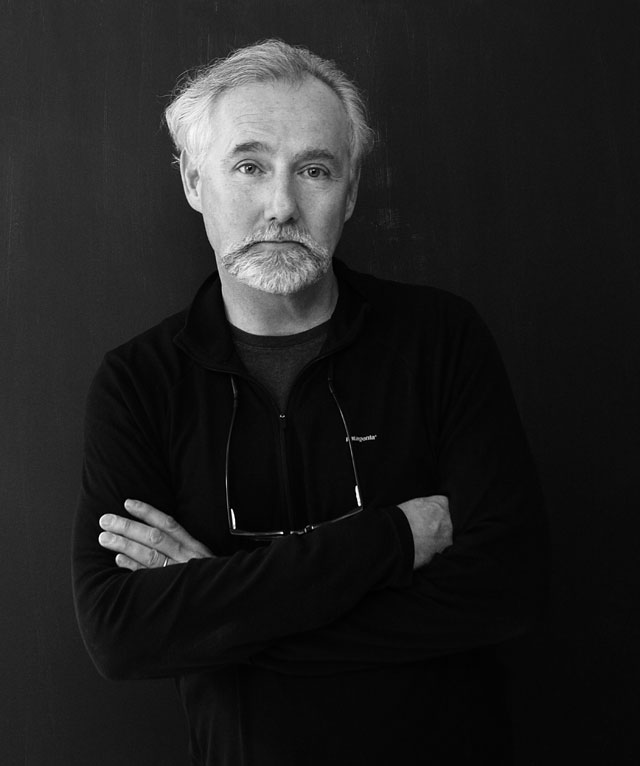 Michael Mabry, 2015 Distinguished Alumnus
Artist Website
Michael Mabry, who has been referred to as the Miles Davis of design, received his BFA from University of Utah, with honors in graphic design in 1974. From there, Mabry stepped onto the international design and illustration stage. Throughout his career, Mabry is best known for his corporate identities and distinctive brands for large clients. His international clients include Adobe, Martha Stewart Living, The Chronicle Books, and his work is included in the permanent collections of the Library of Congress, SFMOMA, and the Hong Kong Heritage Museum.
He was the second President of AIGA San Francisco, and was the founding Secretary/Treasurer. He has taught at the California College of the Arts and guest lectures at many universities and various designer/art directors' organizations throughout the country. He serves as an Advisor to Project M and is a member of the Alliance Graphique Internationale. In 2014 Michael was awarded the AIGA Medal, the most distinguished honor in the profession.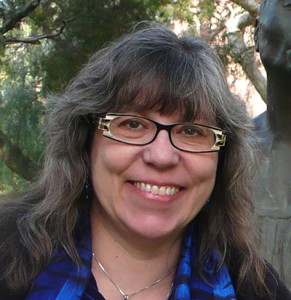 Christine Panushka, Fall 2014 Distinguished Alumnus
Christine Panushka is a professor at the University of Southern California, and a filmmaker who continuously tries to push associative cinematic language in a new direction, exploring new possibilities of what can be expressed non-verbally. After graduating from the U (BFA Fine Arts '77), Panushka went on to establish herself internationally as a filmmaker, animator, and educator.
Panushka has curated animation programs, juried film festivals and served on the selection committees for the Hiroshima Animation Festival and the Ottawa International Animation Festival. Her films have won numerous awards including the Grand Prize at the Aspen Filmfest and a Golden Gate Award at the San Francisco International Film Festival. Named an Absolut Visionary in 1996, Panushka conceptualized, directed and curated "Absolut Panushka," the second issue in a series of content based web sites sponsored by Absolut Vodka. Critics have described her work as "completely original and capable of affecting both cerebral and sensual complexities."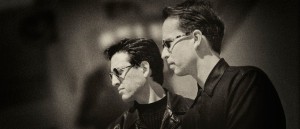 Thomas Fairclough & Tom Antista, Fall 2013 Distinguished Alumni
Ever since he can remember, Thomas Fairclough has had a pencil in his hands. The University of Utah played a pivotal role in further shaping Thomas for a successful design career and was key in the success he's had over the past 25 years in creating strategic brand design solutions for a number of Fortune 50 and Fortune 500 companies. He has influenced the world of design through his work in corporate identity, packaging design, print design, environmental signing, and retail architectural design.
Designer, illustrator, and photographer Tom Antista has dedicated his career to the exploration of visual images and creative design for the mainstream world. Based in Atlanta, his work has received much recognition and awards domestically and internationally. Tom received his BFA from the University of Utah, graphic design. He then went to Southern California to work for Rusty Kay & Associates as a lead designer. In 1984, he opened Antista Design in Santa Monica, CA. In 1991 he partnered with nationally known designer Thomas Fairclough. Antista Fairclough was formed and has been a thriving international design firm for the past 22 years.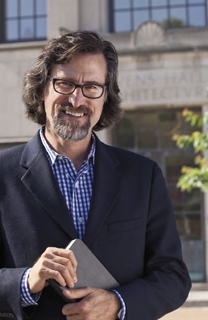 Bruce Lindsey, Fall 2012 Distinguished Alumnus
As a teacher and administrator, Bruce Lindsey has made significant contributions to beginning design education, sustainable design education, and community design education. He earned a BFA in Art, and an MFA in Sculpture and Photography from the University of Utah. He is the Dean of the College of Architecture and Graduate School of Architecture & Urban Design in the Sam Fox School of Design & Visual Arts at Washington University in St. Louis. He served as head of Auburn's School of Architecture from 2001-06, and in 2005, received the AIA's National Teaching Honor Award for his work in beginning design at Auburn. Before that, he taught at Carnegie Mellon University, where he served as associate head of the School of Architecture and associate professor of art and architecture from 1994-2001. In 1997, he co-chaired "Not Only But Also," the 14th National Conference on the Beginning Design Student in Pittsburgh. Lindsey has been a visiting professor at Arizona State University and at Catholic University, and was the Pierce Visiting Critic at the State University of New York at Buffalo.
Lindsey's research has long focused on applying digital tools to design and construction practice. In 1992, his work in digital-aided manufacturing was cited by Engineering News Record as one of the year's 10 most significant contributions to the construction industry. His book 'Digital Gehry: Material Resistance Digital Construction' (2000) explores the use of technology in the design process of architect Frank Gehry.
A practicing architect, Lindsey worked with Davis + Gannon Architects to design the Pittsburgh Glass Center, which earned a gold rating under LEED guidelines. The project also received a Design Honor Award from the American Institute of Architects (AIA) and was chosen as one of 2005's top 10 green buildings by the AIA's Committee on the Environment.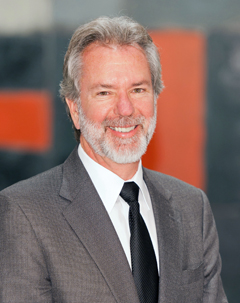 Charles Loving, Spring 2012 Distinguished Alumnus
Charles R. Loving is director and curator, George Rickey Sculpture Archive at the Snite Museum of Art, University of Notre Dame. He has a Master of Arts, Art History, from the University of Utah, 1985; Master of Fine Arts, arts administration, from the University of Utah, 1982; and a Bachelor of Fine Arts, painting and drawing, from the University of Wisconsin, Milwaukee, 1980.
Recent publications include: "Richard Hunt: Voyage Through Modernism," Sculpture, April 2009, Vol. 28 No.3; "Response to Kimerly Rorschach," The Acquisition and Exhibition of Classical Antiquities: Professional, Legal and Ethical Perspectives, 2007, University of Notre Dame Press, Notre Dame, Indiana; foreword and essays, Selected Works, 2005, Snite Museum of Art, University of Notre Dame, Notre Dame, Indiana; "Latent Emissions," Face-to-Face: Examining Identity, 2003, Snite Museum of Art, University of Notre Dame, Indiana; and, "Circumnavigating the Currents of Modernism: Richard Hunt's Sculptural Voyage Through the Last Half of the 20th Century," Presage of Passage: Sculpture for a New Century, 1999, Brigham Young University Museum of Art, Provo, Utah.
Loving co-organized a 2009 symposium on American sculptor George Rickey, Abstraction in the Public Sphere: New Approaches, and he is currently preparing a book on American sculptor Richard Hunt.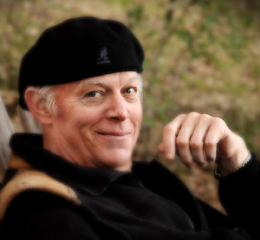 Richard Winn Taylor, 2011
Website
Richard began his career as an artist and holds a BFA in Painting & Drawing from the University of Utah. He began making short films in 1965, and in 1967 co-created Rainbow Jam, a multimedia lightshow and graphics company. Rainbow Jam toured with the Grateful Dead, and regularly performed concerts with bands such as Santana, Led Zeppelin, Jethro Tull, and Crosby Stills and Nash.
In 1971, Taylor received the Cole Porter Fellowship to USC where he earned his masters degree in photography and printmaking. In 1973, Taylor joined Robert Abel and Associates, the pioneer TV commercial graphics/special effects studio, where he won numerous awards, including four Clios for his work for national clients. As a part of the Abel Studio, Richard worked for Paramount Pictures on Star Trek: The Motion Picture.
Taylor became the co-effects director of innovative special effects and computer-generated images for Walt Disney's Tron, the film that introduced the world to computer simulation. He also created special effects for Disney's Something Wicked This Way Comes, and John Lasseter's Where the Wild Things Are. For the next twenty years, Taylor produced work for an extensive list of national clients including Reebok, Warner Bros., Disney, UPS, Honda, Intel, and Toyota among others, winning Clios, Hugos, and Mobius awards. In 2003, Richard became the cinematic director for Electronic Arts. Taylor has been a member of the Directors Guild of America for over 30 years, is vice-chair of the Visual Effects Society, and is on the Presidential Advisory Board of the Academy of Art University in San Francisco. Richard is also the co-creative director at yU+Co Inc., and is director of XLNT FX Inc., his own design and production company. In 2008 he received an honorary doctorate from the Academy of Art University in San Francisco.
Taylor also creates original art that has been featured in several tabletop books on computer art. His work is represented by Phillips Gallery, and is in numerous private and public collections.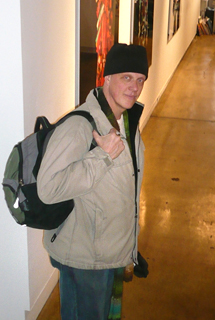 Mario Naves, 2010 Distinguished Alumnus
Artist Website
Mario Naves, an artist, writer and teacher who lives and works in New York City, was awarded a BFA in Painting and Drawing from the University of Utah in 1984. He is renowned for his torn and cut abstract collages, works of art that have been described by The New York Times as being "delicate and gorgeous" and by Art in America as "joyous", "sophisticated", "charming" and "goofy". Elizabeth Harris Gallery in Chelsea represents Naves' art, where it has been featured in four one-person exhibitions. His collages are included in private and corporate collections across the world. Naves has been the recipient of awards from The National Endowment for The Arts, The George Sugarman Foundation, the E.D. Foundation and The National Academy Museum.
A critic as well as practicing artist, Naves has written on the visual arts for over twenty years. He has contributed to The Wall Street Journal, The New Criterion, Smithsonian, New Art Examiner, Slate and, from 1999-2009, The New York Observer, where his sometimes prickly opinions earned him the reputation of being a "maverick dissenter".
Naves has taught and lectured at The Cooper Union, The New York Studio School, Montclair State University, Rutgers University and The Ringling College of Art and Design. He currently teaches at Pratt Institute and Brooklyn College.
Ken Dawson Little, 2009 Distinguished Alumnus
Artist Website
Ken graduated from the department in 1972 with an MFA in Art, and he pushed way beyond the preconceived ideas about ceramics then current in university ceramics programs. Since then this talented artist has sought to answer a question he wants to explore as opposed to a statement that he wants to make and has developed his repertoire during a fertile period of modern art when movements flourished, succeeded, overlapped. His commitment to making and exhibiting art has generated a national profile that includes more than 35 one-person exhibitions and more than 200 group exhibitions. Ken's list of awards runs several paragraphs including grants from the National Endowment for the Arts, the Mid America Art Alliance, the John M. Kohler Arts Center, and the Penny McCall Foundation.
His work—especially the steel armatures coated in real dollar bills (which by the way is cheaper than casting the piece in bronze)—has entered our visual lexicon and has been collected by institutions across the country including the Contemporary Museum in Honolulu, Nelson Gallery at the University of California at Davis, Microsoft Corporation in Seattle, and our UMFA owns four of his works.