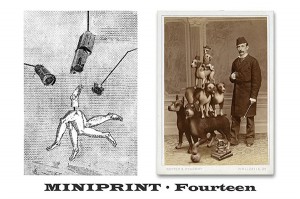 A Miniprint Portfolio has been produced every year since 1999, and includes prints made by students, faculty and alumni. Each year, in December, a new set is produced and includes prints by about 30 artists made in a variety of techniques such as; Lithography, Etching, Relief, Screen-printing, Digital, Cyanotype and Letterpress printing. Each participant creates an edition of prints with some put into sets for each artist. The remaining prints are sold to raise funds that are primarily used to assist students in attending the "Southern Graphics Council International" annual conference, the largest printmaking conference in the US. The prints are initially sold at the Annual Holiday Sale in the Gittins Gallery, in the Art & Art History Department on the University of Utah campus. Funds are also used to assist in inviting visiting printmaskers to the department. These artists will stay for several days and create an edition of new prints with the hands on assistance of the Printmaking Majors.
More recently we have started to create larger sized prints (14 x 18") that are sold in conjunction with the miniprints.
Below are six prints from the December 2012 Portfolio.