2nd National Works on Paper Juried Exhibition.
7th October – 1st November 2019.
Gittins Gallery, University of Utah, Salt Lake City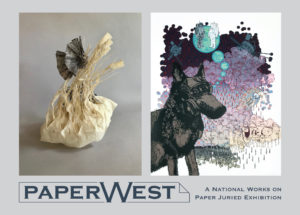 Organized by the Department of Art and Art History at the University of Utah, this national  juried exhibition showcases contemporary works on paper by artists throughout the country.
Eligibility & Media
All artists (18 years and older) residing in the USA were eligible to enter up to 3 original works that were either constructed from paper, or utilized a paper support. Works in Book Arts, Collage, Digital Prints, Drawing, Painting, Photography, Printmaking (including Monoprints) and 3D Paper Works were eligible.
Juror: Judith K. Brodsky
Judith K. Brodsky is Distinguished Professor Emerita, Visual Arts, Rutgers University and Founding Director (1986) of the Rutgers Center for Innovative Print and Paper, renamed Brodsky Center for Innovative Editions in her honor. In 2018, the Brodsky Center joined the Pennsylvania Academy of the Fine Arts in Philadelphia. Over 300 artists have created works at the center and these projects are in the collections of the Metropolitan Museum of Art, Museum of Modern Art, Bibliothèque Nationale, Victoria & Albert, and the Stadtsmuseum, Berlin.
She has held leadership positions in the art world, including as national president of ArtTable, the College Art Association, and the Women's Caucus for Art (established in 1972).
Brodsky's work is in over 100 permanent collections including the Library of Congress, London's Victoria and Albert Museum, and the Fogg Museum, Harvard.
Juror's Statement
It's exciting to be the juror for exhibitions in parts of the country where I have little connection.I am a typical Easterner who unfortunately remains a little vague when it comes to the geography of the American West. It's also very ironic to be a juror for an exhibition of works on paper in Utah because my only other exhibition connection to the University of Utah was an exhibition in 1978 of works on paper.  An exhibition I organized, Works on Paper by Women was shown in the galleries. It was one of the first large exhibitions of works by women artists and possibly the first feminist project funded by the National Endowment for the Arts (at the very least, one of the first).  It was initially shown at the Blaffer Galleries, University of Houston in conjunction with the National Conference on Women, held in Houston in 1977 and. It included what became a who's who of women artists who emerged as a powerful force that changed the nature of the visual arts in America.
With my memories in hand, I was delighted to be invited to be the juror for the University of Utah Second National Annual Exhibition of Works on Paper.  It was an exhilarating experience. The high quality of the work submitted and broad variety of technique and content was at first overwhelming. The question was how to develop a coherent exhibition from such a diverse group of works. After a while, the works fell into groups--woodcut landscapes, surreal collages, a surprisingly set of mezzotints, some beautiful charcoal drawings, a large number of mixed media. and a collection of artist's books. While many works were based on photographic material, there were only a few straight photographs. Dream imagery abounded--octopuses, the moon, the bottom of the sea, winged beings, anthropomorphic animals, the cosmos, skulls. It was also interesting to see that abstraction is alive and well--varying from hard edge, beautiful acrylic paintings on paper to informal notational work that put the viewer into the artist's mind creative process. I hope my final selection reflects the diversity of theme and medium which characterized the entries. The quality was excellent throughout--I found myself admiring the skills of individual artists--wonderful lithographs, fabulous mixed media, as well as their imaginations. I was limited by the space available in the gallery. Paring down the work I liked to the number that would fit in the gallery was difficult. Despite my constant concern to be objective, I suspect that at the end, the exhibition reflects my personal preferences--a juror's privilege that can't be avoided.  I've come away from the experience, feeling that I've learned a lot about what artists in the United States are thinking about at the moment--including the present political conditions.  I also come away with my firm belief that the visual arts in the United States are thriving and are in a state of excellence.
Selected Artists
Sharon Allicotti, CA, Jared Barbick, CA, A Bascove, NY, Noah Breuer, AL, Andrew Brown, FL,  Sarah Bogdal, TN, Karen Butler, CT, Annalisa Campbell, OK, Kevin Campbell, CA (https://buttermobile.com), Christa Carleton, MT, Jocelyn Châteauvert, SC, Jill Christian, NM, Annemarie Coffey, NY, Erin Renee DiGiovanni, AZ, Ben DiNino, MN, Rosemarie Dunn, UT, Scott Durka, UT, Sarah Fukami, CO, Dirk Hagner, CA, Yuji Hiratsuka, OR, Matthew Hopson-Walker, CA, Denise Howard, CA, Ashley Johnson, UT, Adam Larsen, UT, Marius Lehene, CO, Paul Leibow, NJ, Harry Longstreet, WA, Ashley Nason, CO, Rebecca McCannell, OR, Florence Alfano McEwin, WY, James Mcgee UT, Ashley Miller, NM, Joseph Miller, NY, Elizabeth Morisette, CO, Ashley Nason, CO, Selena Nawrocki, GA, Richard Newman, OR, Jonathan Nicklow, CO, Edie Overturf, OR, Thomas Pickarski, NY, Laura Post, IN, Karen Purdy, CA, Kathleen Ristinen, OH, Ajean Ryan, CO, Debrah Santini, GA, Scripps Press, CA, Mike Stack, AZ, Dafna Steinberg, VA, Emily Stokes, IA, Pamela Tarbell, NH, Victoria Tasch, WI, Brian Truesdale, NY, Rhonda Urdang, AZ, Hannah Varamini, CA, Erik Waterkotte, NC, Weiting Wei, OH, Linda Whitney, ND, Laura Sharp Wilson, UT, Megan Wilson, UT, Jave Yoshimoto, NE, Paul Young, WA, Aly Zee, NM.
Main Equal Prize Winners ($800 each): Annalisa Campbell, Kevin Campbell, Matthew Hopson-Walker, Dirk Hagner, Jave Yoshimoto and Linda Whitney. Packing Prize winner ($100): Karen Purdy.
PaperWest Recetion and Install Images
Contact: worksonpaper@art.utah.edu