Exhibitions will be open on Thursday 10th October late afternoon-evening.  Shuttles will be provided. All the galleries have parking nearby.  (some galleries will also have another gallery opening during the regular SLC gallery stroll)
AMIDST: Work by Kathy Puzey, Amanda Lee, and Holland Larsen.
Gallery: Alice Gallery, 617, East South Temple, Salt Lake City, UT 84102, .
Exhibition dates: September 13 – November 1, 2019. Open Tues – Fri 10am – 4pm .
Gallery Stroll Artist Reception: October 18 from 6-9pm. Free Parking behind Gallery.
Amidst is an exhibition of current works from artists and full-time USU faculty Kathy Puzey, Amanda Lee, and Holland Larsen who use printmaking to explore their relationship with their surrounding natural environment. Each piece begins with quiet observation, an artist teasing out the experience of moments in-between, amidst the external and internal.
Printmaking is essential to the formation of the images. All three artists showcase elemental characteristics of printmaking in their work–marks created by carving into wood, layering of ink to create depth of color, multiples and repetition, democratic distribution of ideas, and half-tone images.
Duality and experience of nature are a through line for all three artists. Puzey is fascinated with the back-and-forth of wilderness and control. Her humility in the face of nature is contrasted with a tugging urgency to impose, inspect, and rearrange. Lee mediates the experience of nature through the mechanics of photographic image and explores the rational versus the intuitive with hand drawn marks and selective opacity. Larsen abstracts nature and its systems, ones that contain and gather, to make an object from image. Intentional and intuitive marks balanced with formal considerations of color, form, and pattern guide the content of each piece.

Erik Waterkotte.
Gallery: Saltgrass Printmakers. 412 South, 7th West, Salt Lake City, UT 84104. www.saltgrassprintmakers.org/
RMPA Artist Reception October 10, 2019 ~ 6pm to 9pm.  Light refreshment and beverages.
Free Parking on street.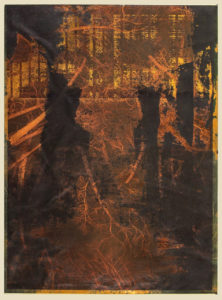 Statement of work:
My work focuses on concepts of belief, ritual, and representation.  I use print and graphic media to intersect the archetypal, the inherited, and the phenomenological.  I juxtapose ideology and archetype layering graphics based-on my family history, Catholic-upbringing, and my fascination with early-American occult.  In "The Archetype of Dream Symbolism" Carl G. Jung writes, "We are moved by forces from within as well as by stimuli from without.  These inner motives spring from a deep source that is not made by consciousness and is not under its control…these forces were called mana, or spirits, demons, and gods.  They are as active today as they ever were."  In my artwork I manifest my own mysticism, confronting viewers' beliefs and ideologies through a familiar but individual occult.
(Image: Praecantatio II, Screenprint, hotfoil, and inkjet print on washi, 2019).

EVAN STILL, DESPITE IT ALL.
A collection of new solo works and collaborations by Evan Jed Memmott and friends.
Gallery: God Hates Robots. 314 West Broadway, Suite 250, Salt Lake City, UT 84101. www.godhatesrobots.com/
Free Parking on street. Can be busy. 2 Hour Limit.

Poiesis.
Gallery: Art Access, 230 South 500 West #125,  Salt Lake City, Utah 84101
www.accessart.org
Exhibition dates: September 20 to October 11, 2019. gallery Stroll Opening Reception: Friday, September 19, 2019.
Free Parking on street and nearby,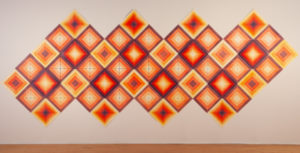 Poiesis is a Greek philosophical term that refers to a creative process or activity in which a person brings something into being that did not exist before.  It's a term that incorporates the moment or a threshold occasion when something moves away from its standing as one thing to become another, such as the blooming of a blossom. This exhibition will feature artists who are creating print based artworks that have gone beyond the two dimensional surface often becoming a 3 dimensional object.
Participating Artists: Joey Behrens, Ike Bushman, Stefanie Dykes, Amber Heaton, Brenda Mallory, Kathryn Maxwell, Camilla Taylor, Chinn Wang and Paula Wilson.
(Image: Amber Heaton, Spiritum).

Transcontinental Railroad.
Gallery: Lower Galleries. Main Library, 210 East 400 South, Salt Lake City UT, 84111.
Exhibition Dates: September 29 to November 8th, 2019.
Pay Parking on street and under Library. Enter parking garage on 4th or 5th south.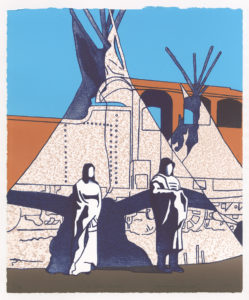 2019 is the 150th anniversary of the completion of the Transcontinental Railroad. Regarded as one of the more monumental events in US history, the completion of the railroad happened at Promontory Point in Utah. There are the obvious benefits that came from linking east and west, but at what cost? Environmental destruction, exploitative labor, displacement of Indigenous populations, etc… I invite you to make a print on this topic to help our ongoing conversation surrounding the US history of westward expansion as well as Manifest Destiny.

Participating Artists: Marty Azevedo, Judith Baumann, Ryan Bench, Gesine Janzen, Abe Kimball, Adam Leestma, Abe McCowan, Nick Mendoza, Kimiko Miyoshi, Adam Montoya, Tim Musso, Ashley Nason, Sage Perrott, Andrew Rice, Mike Sonnichsen, Eric Wilson, Summer Ventis, Jen Watson, Sukha Worob and Melanie Yazzie.
(Image: Abe Kimball).

Rocky Mountain Student Printmaking Exhibition.
Gallery: George S. & Dolores Doré Eccles Art Gallery. Center for Arts & Media. South City Campus, 1575 S State Street, Salt Lake City, UT 84115. Free Parking at SLCC.
Enter between: 7th August to 2nd Sept.
Details and to apply go to:
https://rmstudent.artcall.org/
Exhibition Dates: October 10 to November 6, 2019.
A Juried exhibition open to students in Arizona, California, Colorado, Idaho, Montana, Nevada, New Mexico, Oregon, Utah, Washington and Wyoming.

Utah Printmakers 2019.
Gallery: Gallery at Library Square. Main Library, 210 East 400 South, Salt Lake City UT, 84111.
Exhibition Dates: September 28 to November 8, 2019.
Pay Parking on street and under Library. Enter parking garage on 4th or 5th south.

This Printmaking exhibition will feature a mix of established as well as recent graduates and younger professional artists who live in Utah.
Participating Artists: Alissa Allred, Zane Anderson, Ed Bateman, Ryan Bench, Paul Vincent Bernard, Carol Bold, Laura Decker, Al Denyer, Justin Diggle, Stefanie Dykes, Morgaine Fehleur, Nolan Flynn, Anna Hansen, Brian Hoover, Trishelle Jeffery, Abe Kimball, Adam Larsen, Holland Larsen, Amanda Lee, J.D MacDonald, Michelle Macfarlane, Abraham McCowan, Evan Jed Memmott, Jared Nielson, Marnie Powers-Torrey, Kathy Puzey, Nathaneal Read, Andrew Rice, Nancy Steele-Makasci, K Stevenson, Brian Taylor, Claire Taylor, Emily Tipps, Becky Williams Thomas, Amy Thompson and Rachel Urban.
Pay Parking on Street.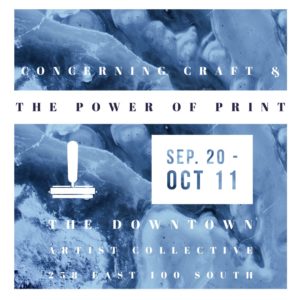 Concerning Craft and the Power of Print.
Gallery: Downtown Artist Collective - 258 E. 100 S. www.downtownartistcollective.org
Exhibition Dates: Opening reception September 20 6-9 p.m.  Closing Reception October 10 6-9pm.
Gallery open on weekends, times TBD.
This show aims to bring up a direct conversation around existing in this modern world as Artists and Printmakers and how we are each finding ways of remaining relevant with our work post Academia. Each artist is navigating spaces of experience as a Fine Art Printmakers while growing within the roles of Artists as Business Owners, Activists, Teachers and Healers. Each artist has been asked to examine these roles and respond with consideration on how their work is influenced by the roles they have chosen and how their Fine Art practice intersects with Craft.
Participating Artists: Emily Dyer, Anna Hansen, Sara Luz Jensen, Courtney Johnson, Josh Graham, Desarae Lee, Michelle McFarlane and Evan Jed Memmott