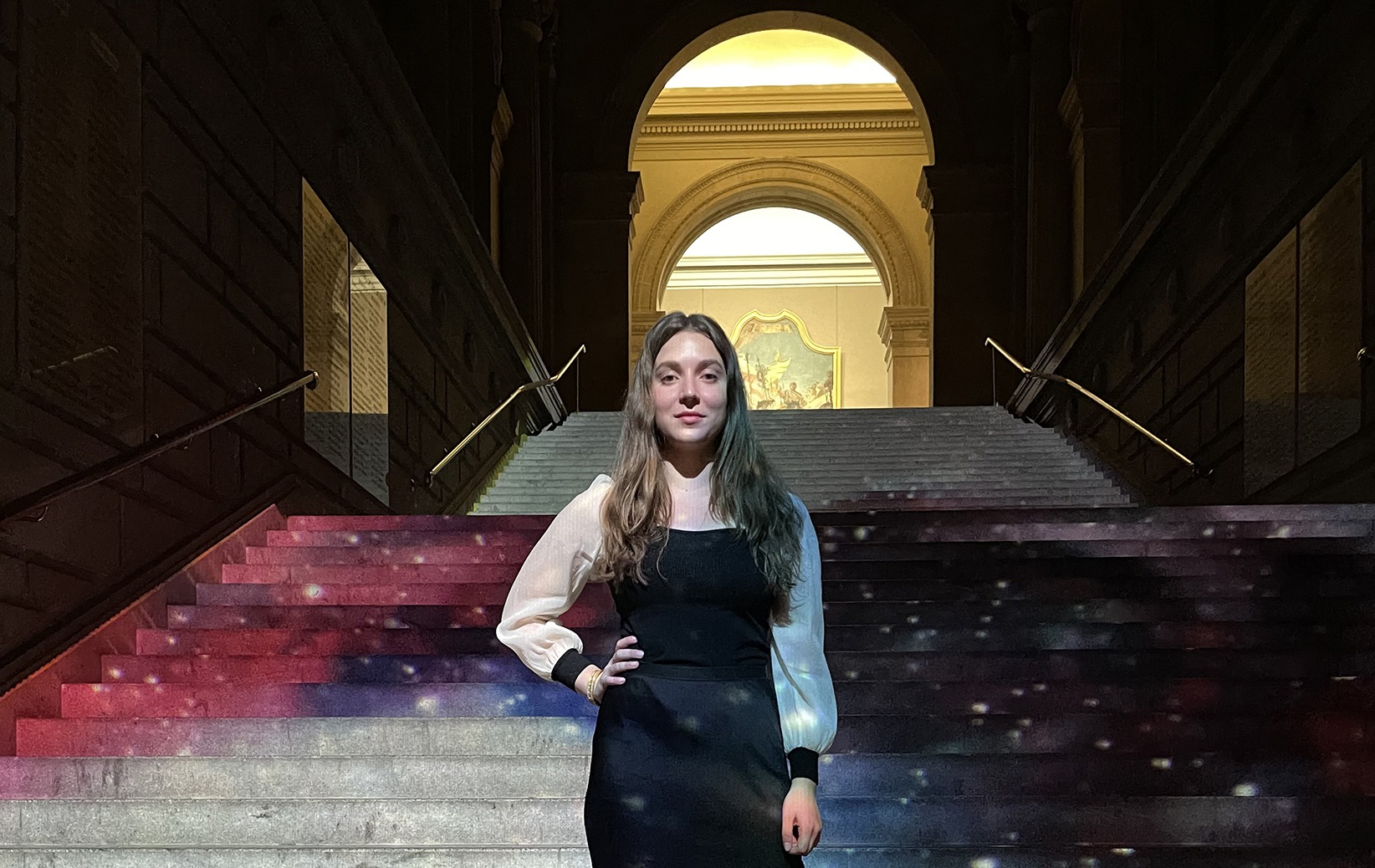 Recent Art History MA graduate Kiki Karahalios has spent this fall working as a curatorial intern at the Metropolitan Museum of Art in New York City. We caught up with her about this prestigious accomplishment and her work in the Department of European Sculpture and Decorative Arts!
Since September of this year, I've been working as an Adrienne Arsht Curatorial Intern in the Department of European Sculpture and Decorative Arts at the Metropolitan Museum of Art in New York. I was hired on to assist in research for the forthcoming reinstallation of the Northern Renaissance permanent galleries, set to open in summer of 2023. This installation is novel in the Met's history as it will be organized thematically in opposition to past iterations which have been organized around temporal and geographic regions, and artistic styles.

The research I've conducted thus far has included exploring issues of race and representations of the 'other' in Northern European art, and utilizing class and economics to situate the contemporaneous Early Modern moment. In finding relevant scholarship for the object checklist, I took special interest in four miniature lead medallions in Met's collection that will be featured in the Northern Renaissance galleries. These lead medallions, each about seven inches in diameter, are representations of the four continents (Europe, Asia, Africa, and America) and were most likely created for a Kunstkammer. The time I've spent working on the four medallions has allowed me to explore questions I encountered in my MA thesis at the U, surrounding European representations of Indigenous Americans from the fifteenth to nineteenth centuries. This research has manifest into an essay that will soon be published on the Met's website.

I also had the opportunity to assist in the installation and opening of the recently opened Afrofuturist Period Room, entitled Before Yesterday We Could Fly. This exhibition incorporated thematic, temporal, and geographic regions that overlap with my MA thesis, and it was exciting to see how an exhibition comes to fruition in real time.

The curatorial work I've engaged with at the Met has been formative to articulating my own research narrative, and has only strengthened and reaffirmed the fields and professions I'm interested in exploring further. Additionally, I've been able to make valuable connections with other students and scholars in my field. The staff I've encountered at the Met have taken genuine interest in my research and future ambitions, and I am incredibly thankful to have had the opportunity to meet curators, professors, and other students who I can exchange research ideas with. I want to acknowledge that the training I received at the U in both my undergraduate and graduate degrees has been critical in preparing me for the kind of research I've been able to do at the Met. The art history faculty are incredibly dedicated to the students in the program, and their close mentorship is what has allowed me to continue to pursue art historical research and curatorial work outside of the University. Finally, I am excited to share that my internship has been extended for another semester, where I am looking forward to continuing research.
Public Domain images courtesy of the Metropolitan Museum of Art
Featured image and text by Kiki Karahalios