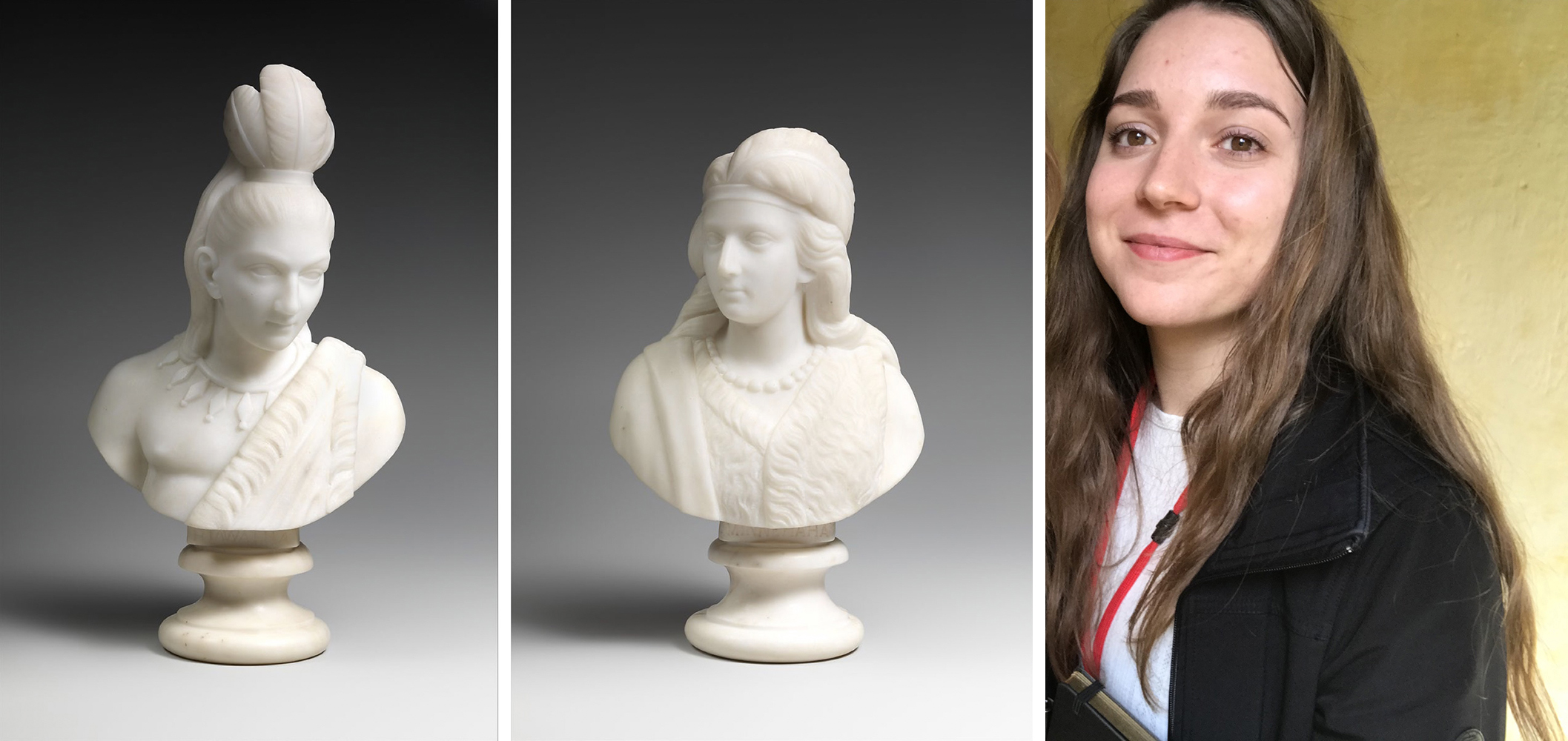 Congratulations to Kiki Karahalios, who successfully defended her thesis and earned her MA in Art History! We're happy to feature an intro to her research of 19th century sculptor Edmonia Lewis:
Edmonia Lewis and her oeuvre are situated amidst a complicated network of layers, peculiarities, and unknowns.  Lewis, who was both African American and American Indian (Ojibwa), was one of the first American women of color to receive international recognition for her artistic achievements and the first professional Black sculptor.  She was born in 1844, before the American Civil War and emancipation of Blacks in America. She ended her career as a successful expatriate artist working in Rome. I began my work on Lewis as an undergraduate in the Honors College here at the University of Utah, when two cabinet-sized portrait busts were purchased by the Utah Museum of Fine Arts.  These busts, titled Hiawatha (1868) and Minnehaha (1868), were pieces of a larger sculptural series drawn from Henry Wadsworth Longfellow's epic poem, The Song of Hiawatha (1855). The sculptures raise complex visual and cultural issues, which their context of production further complicates.  Why would Lewis, a part Native American woman, create neoclassical sculptures about fictional Native American characters created by a white male poet, in Rome, but for an American audience in an era of social and political turmoil? These are questions that drove my analysis of Lewis's Hiawatha series.
            As I argue in my thesis, Lewis capitalized on the politics of presence already located within the orality of American poetry, using Longfellow's fictional Indian figures as surrogate for the real, authentic Indian body. In so doing, she countered a long history of representations of the native body as existing outside of historic time. Lewis's work balances political tension, American ideal, and the social complexities of nineteenth-century America, refusing the then-prevalent socio-political rhetoric of the Indigenous body. Her sculptures undermine the notion prevalent at that time that there was an opposition between the Indigenous race and the newly formed American Republic. Her works do not present a continuation of the existing political narrative regarding Indian-Anglo relations. Rather, she disrupts the genocide-friendly romantic, nostalgic portrayal of Native Americans with a sense of living presence and future continuity. The visually subversive material of an Indian outside of a diminutive, memorializing, or assimilating context actively challenges ideologies that would simultaneously present Indigenous culture as worthy of adoration while nevertheless persecuting the Indigenous body. This thesis argues that while Lewis presents palatable works, she subverts aesthetic traditions and prevalent ideologies in more complex ways. She simultaneously carves herself into the history of American art and the Indigenous population into an alternative narrative through style and subject.
Words: Kiki Karahalios. Pictured: Edmonia Lewis, Hiawatha, 1868, marble, 34.93 x 15.24 x 12.7 cm, The Metropolitan Museum of Art, New York City. (left), and Edmonia Lewis, Minnehaha, 1868, marble, 29.21 x 18.42 x 12.7 cm, The Metropolitan Museum of Art, New York City. (center); Portrait of Kiki Karahalios