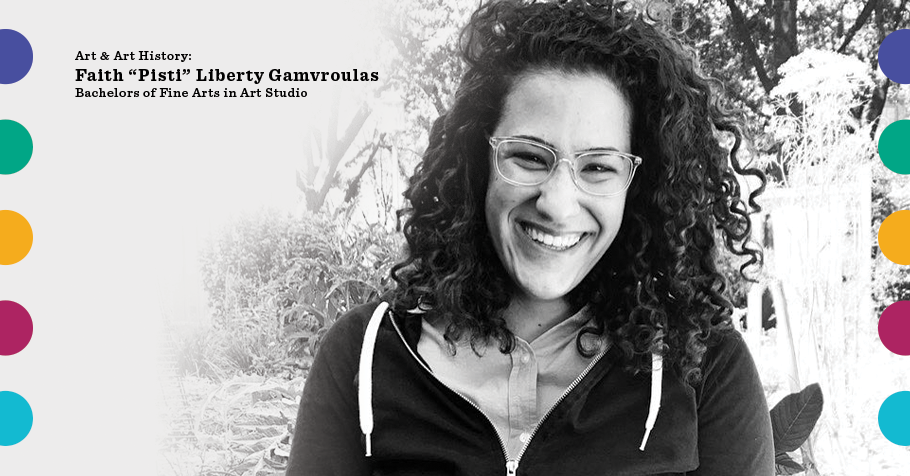 Congratulations to the College of Fine Arts Outstanding Senior for the Department of Art & Art History, Pisti Gamvroulas!
Name: Pisti Gamvroulas
Majors and minors: Art with Graphic Design Emphasis, Minor in Arts & Technology
Hometown: Salt Lake City, UT
Three words that describe you: Loyal, Hard-working, and Compassionate
Favorite CFA class or teacher: Xi Zhang's Drawing 1 Course. Xi is an exceptionally kind and genuine human who cares for each and every one of his students. He is consistently pushing them to do their best work, and experiment in their process. His instruction allowed me to explore my strengths and to understand my weaknesses and how I could improve myself.
Most memorable moment at CFA: Learning about and working in the wood shop during my Foundations year and somehow leaving with all my limbs attached.
One thing you learned at CFA: Community matters. It's important to connect with others that can understand and support you through the challenges you face in a creative industry, and that can cheer you on through the successes you accomplish. Being connected with others helps you grow as a creative and find spectacular humans that you can form relationships with for years to come.
What inspires you: Humanistic Design/Art/Research/Places that motivate people to connect with one another and/or share human experiences. Designers like Timothy Goodman, who's work expresses his emotions and tells stories that everyone can relate to, is very inspiring. Spaces like the National Museum of American History that focus on visitor interaction offer multiple forms of insight into how we can create spaces that bring people together. Podcasts like "The Happiness Lab", that offer scientific insight into how we can live more content lives and connect with others.
Summary of major accomplishments both on and off campus: During my time at the University of Utah, I've been lucky enough to be involved with campus programs such as the Office of Student Success & Empowerment, The Muse Project, Bennion Center, and Intramural Sports. I created my own student organization called "U Got Game?" based on bringing students together to learn a variety of sports, and am the VP of the UofU AIGA, helping create a community amongst all design practices at the U. In the summer of 2019 I was fortunate enough to intern with the exhibition design team at the Smithsonian's National Museum of American History, in Washington D.C. I will be interning with an interdisciplinary architectural company, Sasaki, in Massachusetts this upcoming summer.
One sentence that describes your work: Human centered design/art that uses humor, color, and/or bright subjects to create positive solutions for a variety of people.
"Pisti's participation in class, enthusiasm and diligent work habits set a wonderful example for her fellow classmates. She consistently goes above and beyond what is expected of her, both academically and beyond. It is not very often that we have the opportunity to engage with such a committed student. This same commitment to learn is also demonstrated in her pursuit in a career in graphic design. This led to landing a coveted, nationally competitive design internship at the Smithsonian Museum in Washington DC. This demonstrates her high degree of self-motivation and professionalism. Lastly, and perhaps most importantly, Pisti is a pleasure to work with. She engages with her teachers and fellow students with a smile on her face. Even in the midst of tackling a difficult design problem, Pisti enthusiastically takes on the challenge. Upon solicitation of faculty members for nominations for this award; we received multiple glowing reviews of Pisti. Her love for design is obvious and her positivity is contagious. In addition to her success in the Graphic Design Program and fulfilling the Interdisciplinary Capstone Project in Arts and Technology, she is highly involved in campus life. She is a MUSE scholar, serves as the AIGA (professional organization for design) student body president, and was the lead ambassador for the U of U's  Undergraduate Studies Student Success and Empowerment Program. These are just a few of the many contributions she has made to the campus community."
- Carol Sogard, Graphic Design Area Head and Associate Professor
"Pisti is a kind, intelligent, passionate, and brave artist and designer. Pisti's highly artistic achievements reflects these qualities. I do not doubt she will be a celebrated star in the design community."
- Xi Zhang, Assistant Professor, Painting & Drawing
Read about all of the College of Fine Arts Outstanding Seniors!