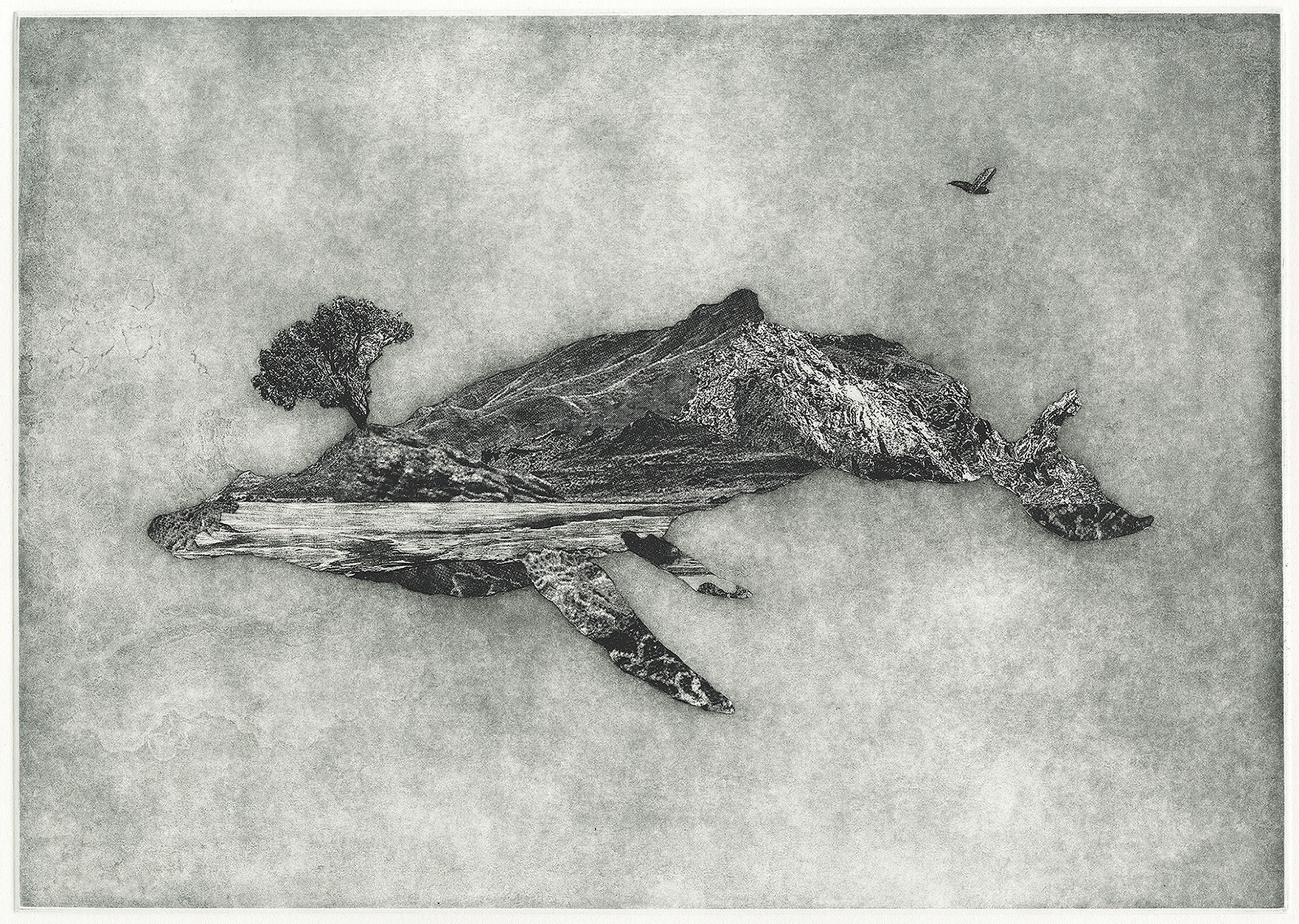 Printmaking Professor Justin Diggle has been nominated, as an elected fellow, to represent the Royal Society of Painters-Printmakers in imPRESSions 21, Open Printmaking Biennial.
'imPRESSions' is the longest running International Open Original Print Exhibition in Ireland and has become an established feature of the Galway International Arts Festival. View the exhibition here: https://www.impressionsbiennial.net/impressions-2021-expo
The idea for the print,  A Whale from the Great Salt Lake, Utah, came after reading stories about a man who introduced whales into the Great Salt Lake, Utah. The stories claim that an Englishman, James Wickham, caught 2 whales off the Australian coast in 1875, brought them by boat to San Francisco, and then by train to Salt Lake City. After being released into the Bear River they escaped into the lake, where, for a while, there were reported sightings, before they were finally killed in 1877. This story first appeared in an article in the Utah Enquirer in 1890. It is in fact quite false. There is no record of a James Wickham in this period and even if whales were introduced into the lake, the concentration of salt in the water, to mention just one reason, would be too high for them to survive. The whale in the print was created, as a collage, from photographs taken around Antelope Island, an island in the lake, and elements of the image also reflect parts of the structure of the island.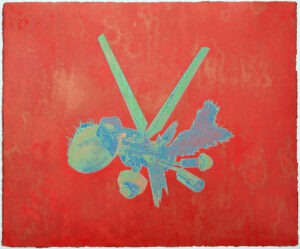 Bug Drone I: In our increasingly technological society it is becoming common to be spied upon or to spy on others in some way. The myriad forms of surveillance have become commonplace and in particular the use of drones, the use of which informs much of my recent work. To create this laser engraved screenprint I first printed 4 to 5 layers of different colours; each colour printed multiple times. I then engraved the main image (made first as a paper collage and then scanned) into the layers of colour. As the laser burned into the ink, the darker areas of the image burnt deeper and revealed the first layers printed. Screenprints are seen as flat, but the building of multiple layers, and then engraving, creates a tactile surface similar to an etching plate. Further screen layers were then added.
Images: A Whale from the Great Salt Lake, Utah, Etching and Photo Etching, 23.5 x 33 cm.; Bug Drone I, Screenprint and Laser Engraving, 51 x 61 cm.