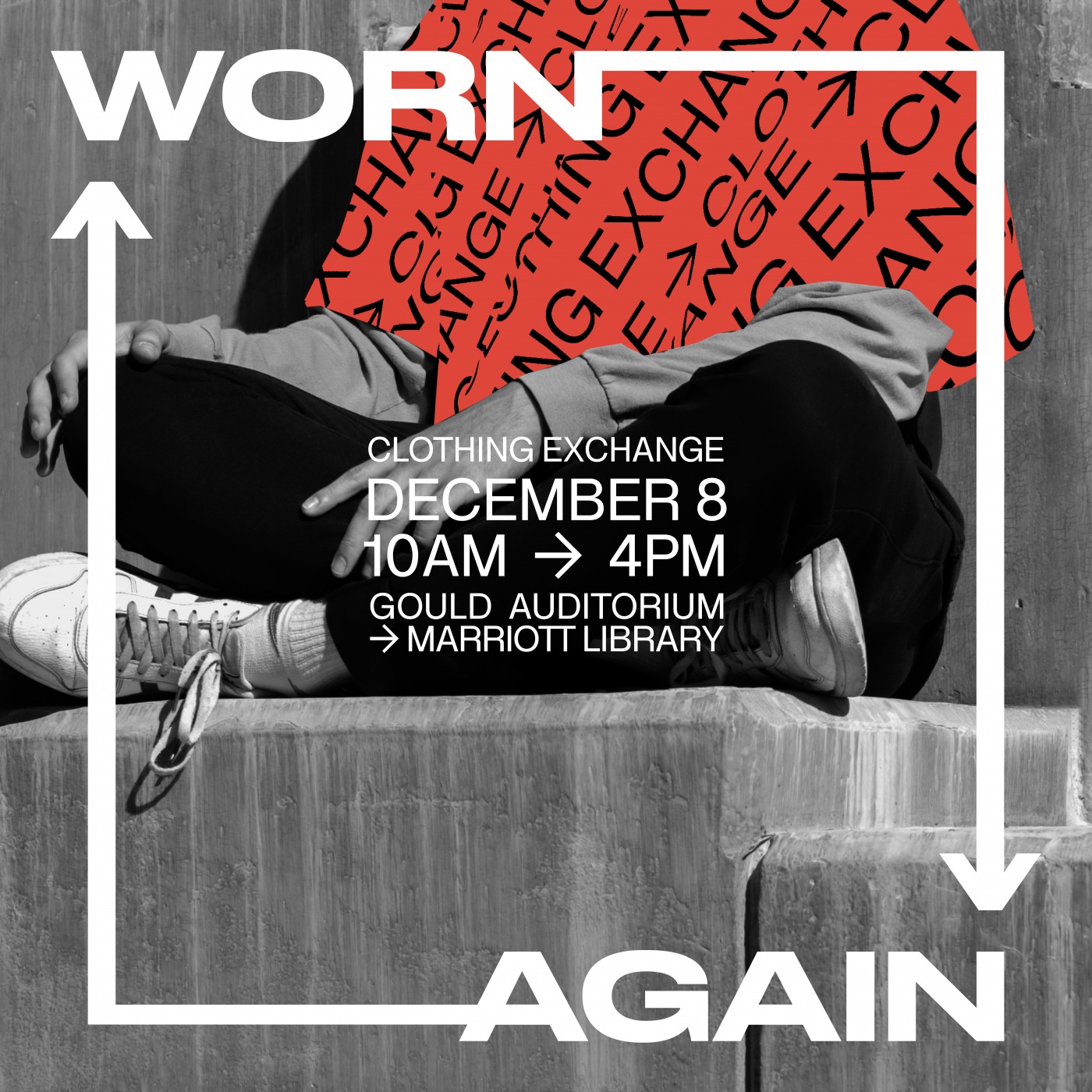 Graphic Design students in the Sustainable Design Practice led by faculty advisor Carol Sogard, are learning about the environmental impacts of design practice and the problems that arise from manufacturing, consumption, and disposal. They address sustainability-focused societal challenges by applying their creative skills to community-based projects.
On December 8, at the Worn Again Clothing Exchange, they are encouraging the entire campus to join them in taking action.
The Worn Again Clothing Exchange offers all participants an alternative to buying new clothing. Participants can exchange their unwanted clothing items with other donated pre-loved items at this event. Bring clothes, take clothes – it's all free! The result? Limit fast fashion, extend the lives of great clothing items, and build awareness about the global environmental impacts of the fashion industry. For those that want to participate but not exchange, clothing donation bins are located around campus to accept contributions prior to the event. After the exchange is over, the remaining clothing will be donated to various local charities.
Students began the Worn Again project by researching fashionrevolution.org, a non-profit that investigates environmental, social, and ethical issues in the fashion industry. After reflecting on their fashion consumption habits, and learning about the environmental impacts of fast fashion, many realized that they often purchased much more than they needed, wore, or loved. This experience served as the inspiration for the creation of a used clothing exchange for the campus community.
"This project is entirely student-run," Sogard said. "They take full ownership of the event and determine how it is designed and executed."
Student designers were divided into teams to develop the event concept and name, brand identity and guidelines, public relations, advertising, event signage/design, social media marketing, and affiliated educational exhibit designs.  "The students have designed cases in the Marriott Library to create awareness around the dangers associated with the way we consume our fashion," Sogard explained. These exhibits will be open for public viewing on December 1st on the 1st and 2nd floors of the Marriott Library.
"We decided the best way to get people thinking about how they consume their fashion is to rethink the whole process of purchasing," Sogard said. "That led us to this event where no money would be exchanged, and everything will be reused. In the end, when you talk about what you can do as a consumer, the best thing is to slow down your consumption."
For many students on a limited budget, thrifting is not only wallet-friendly, but it is also a sustainable choice. And at this event, they might just find a totally new wardrobe without spending a dime.
"The big thing with sustainable design practice is to get students to connect with a subject they are passionate about, and for a lot of them, that is fashion."
Worn Again
December 8, 2021
10 AM – 4 PM Gould Auditorium, Marriott Library
+ more locations!
Stay up to date and get educated!
Follow @uofu_wornagain on Instagram.
Student Designers:
Piper Armstrong, Jessica Allred, James Carlson, Sydney Figgat, Derek Gardiner, Mina Gedeon, Alexa Jones, Grey Larson, Deana Melchior, Jasmin Nguyen, Taylor Schwendiman, Neil Sodja, Morgan Talbot, Karly Tingey
Campus Partner:
Marriott Library, Ian Godfrey, Michael Bigler