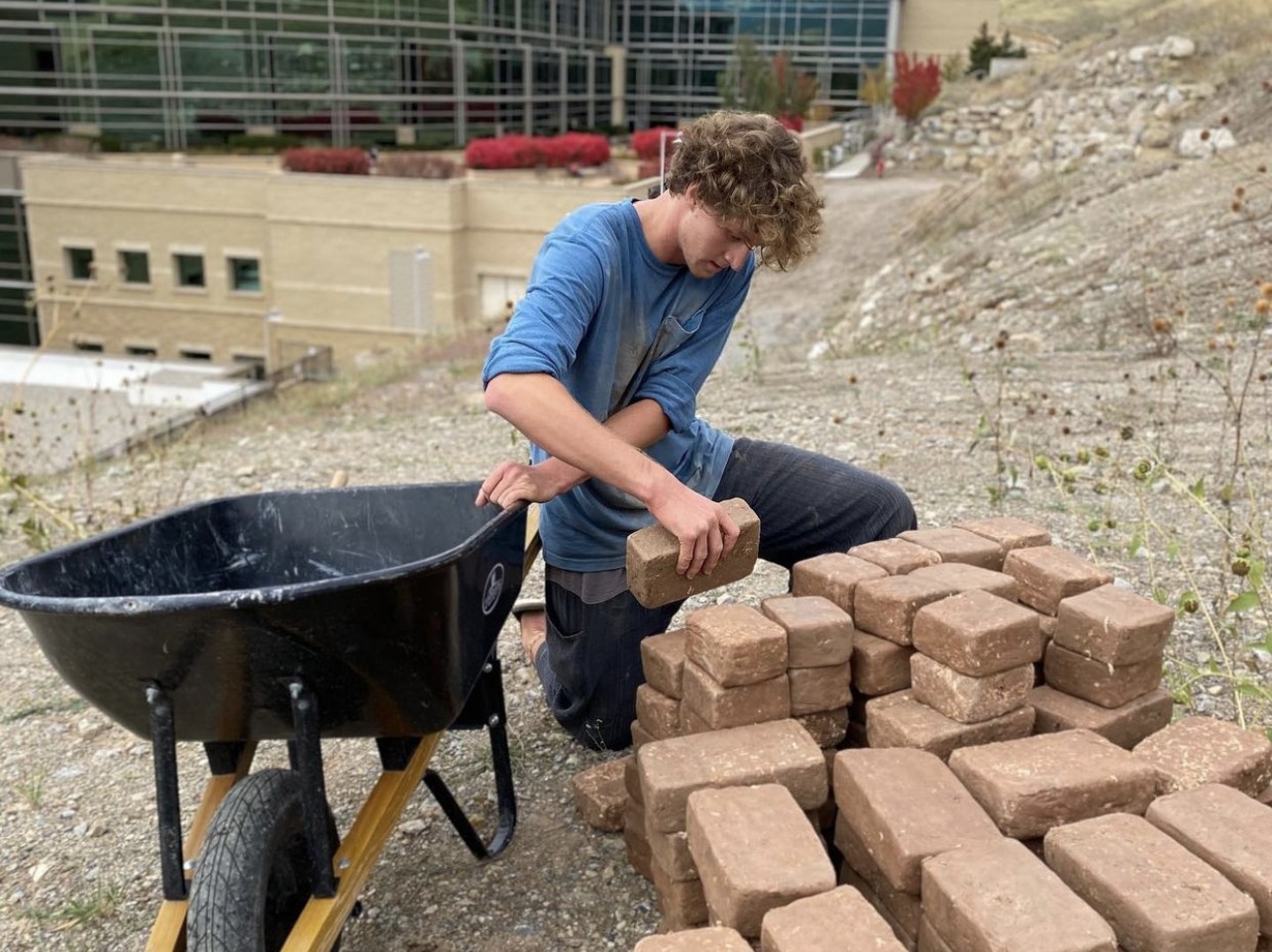 U of U Ceramics student Griffin Hale created an art installation focused on his mother, who has metastatic breast cancer, in Professor Brian Snapp's Advanced Ceramics class. "The Caregiver's Window," located in the hills above Huntman Cancer Institute, remained for just a few days, but the emotional impact may last a lifetime. HCI shared this video about the work.
The Caregiver's Window : This piece demonstrates the bystander role we take as we watch our loved ones suffer from cancer. We encounter feelings of disconnect, fear and helplessness watching the events unfold. These feelings influence us and challenge us to acknowledge the distance and separation we feel between ourselves and our sick loved ones. This is demonstrated by overlooking the Huntsman Cancer Institute, where my mother receives treatment. However, like the unfired adobe bricks the structure is built from, the distance and walls between us are impermanent and will erode away. Building this project was a healing act for myself. Individually making every brick and carrying each of them to this location was an experience I'll never forget. In the end I recycled and built a 2,150 pound clay structure.
Video transcript
This is my fifth year at the university. I'm studying ceramics. I'm in the second-to-last class in the department. Our first project was a temporary installation.
My mother was first diagnosed with breast cancer. I had just started high school. That was kind of the first big blow, you know—radiation, chemo, surgery—you know, the whole story. December of 2016, I think, she was diagnosed with metastatic breast cancer. Now it's been a few years and she's been kicking ass. She's really tough—strongest person I know.
The experience that truly inspired this project—I used to live right next door to my family, so we would often see each other through a window and we'd wave through it to each other. But there was an evening I waved to my mother and she didn't see. That was kind of that realization of that bystander role. We're just kind of watching as things unfold.
The project we ended up going with was a temporary structure large enough to step into. It was installed outside of Huntsman Cancer Institute, overlooking the hospital. Looking through the window and looking at the hospital put you in that similar situation where you're watching from a distance.
The whole experience making this was very healing for me. I love some manual labor. There was 250 bricks, each weighing 10 pounds, carried it up the hill. I was able to put a physical form to words that I didn't know how to open up about. You're so bottled up with emotions—whether that be fear, sadness, anger, frustration, confusion, whatever it is. And sometimes you just kind of like melt, you know, or kind of explode or however you want to say it and all those emotions are let out.
Having a parent and a family member and a loved one have cancer and be sick, there's hard days for sure. I also think it gives us an opportunity to come closer together. I've seen my parents fall back in love with each other over and over going through this and working things through.
The sturdiness and the unmovingness of the project itself spoke to the defiance in that, despite all of the horrible things going on and the destruction that cancer itself is causing, we're unmoving. And that representation in the caregiver role that so many people can relate to.
---
Griffin Hale completed his art installation, "The Caregiver's Window," the week of October 25, 2021. It remained for a few days, giving time for his family and his U of U ceramics class to experience it. Special thanks to Huntsman Cancer Institute's Don Milligan, Alyson Harding, DJ Glade, and Shelley White for your support.