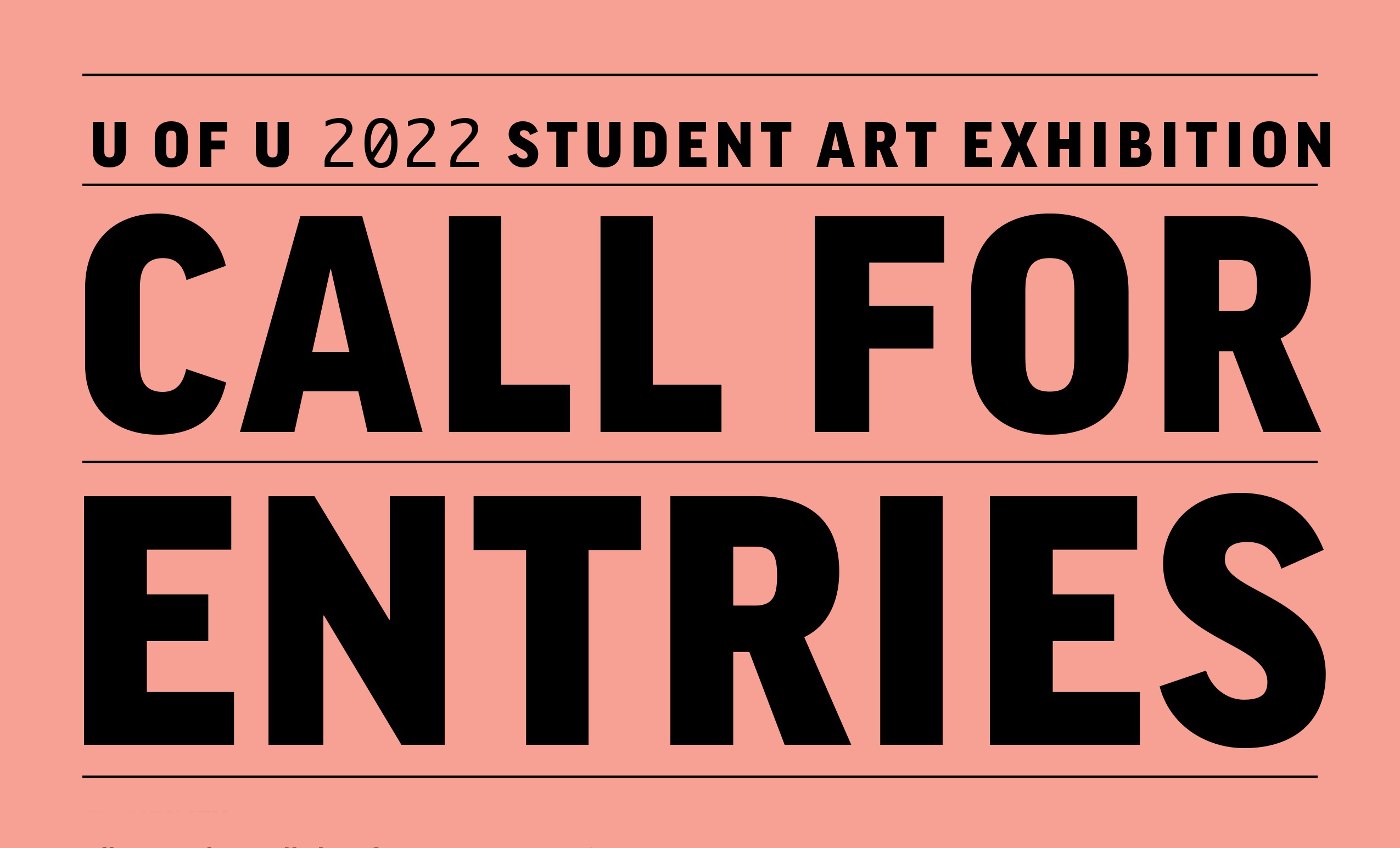 ELIGIBILITY  All currently enrolled U of U UNDERGRADUATE ART and GRAPHIC DESIGN MAJORS & MINORS (all emphasis areas) may submit 1–3 original works in any medium. 
• 2D works: Must be gallery-ready with picture wire, including all framed work and paintings. No saw-tooth hangers. Wet paintings, loose drawings, or other unfinished works will NOT be accepted.
• 3D works: Include any special display instructions.
• Video: Submit on thumb drive or provide a URL.
• EACH work submitted must be labeled with: title of work, entrant name, email, and phone. 
EXHIBITION INFO  Tuesday April 12 — Tuesday April 26, 2022 Alvin Gittins Gallery, University of Utah 
SUBMISSION DROP-OFF  Thursday March 31, Friday April 1 and Monday, April 4, 10:00a — 4:00p Department of Art & Art History office (ART 161)
JURYING Jurying will take place on Tuesday, April 5 by an independent juror (non-faculty). Accepted entries will be posted on Wednesday, April 6 outside of the Art & Art History office (ART 161).
WORK NOT ACCEPTED MUST be picked up: WEDNESDAY, APRIL 6 — THURSDAY APRIL 7 between 10:00a—4:00p
EXHIBITED WORK must be picked up: WEDNESDAY, APRIL 27 — THURSDAY, APRIL 28 between 10:00a—4:00p 
Complete Entry Form Here. MUST Print and bring with your submissions 
SUBMISSIONS ARE CLOSED, PLEASE CHECK YOUR UMAIL FOR RESULTS!
---
Insurance will NOT be provided for any submitted or exhibited work. The Department of Art & Art History is not responsible for any work that is not picked up by the appointed dates. Unclaimed work will be disposed of. Exhibited work may not be removed from the gallery before Tuesday, April 26 at 4:00p. 
Sales inquiries will be referred to individual exhibitors.
Faculty Contact: Assistant Professor Xi Zhang xi.zhang@utah.edu