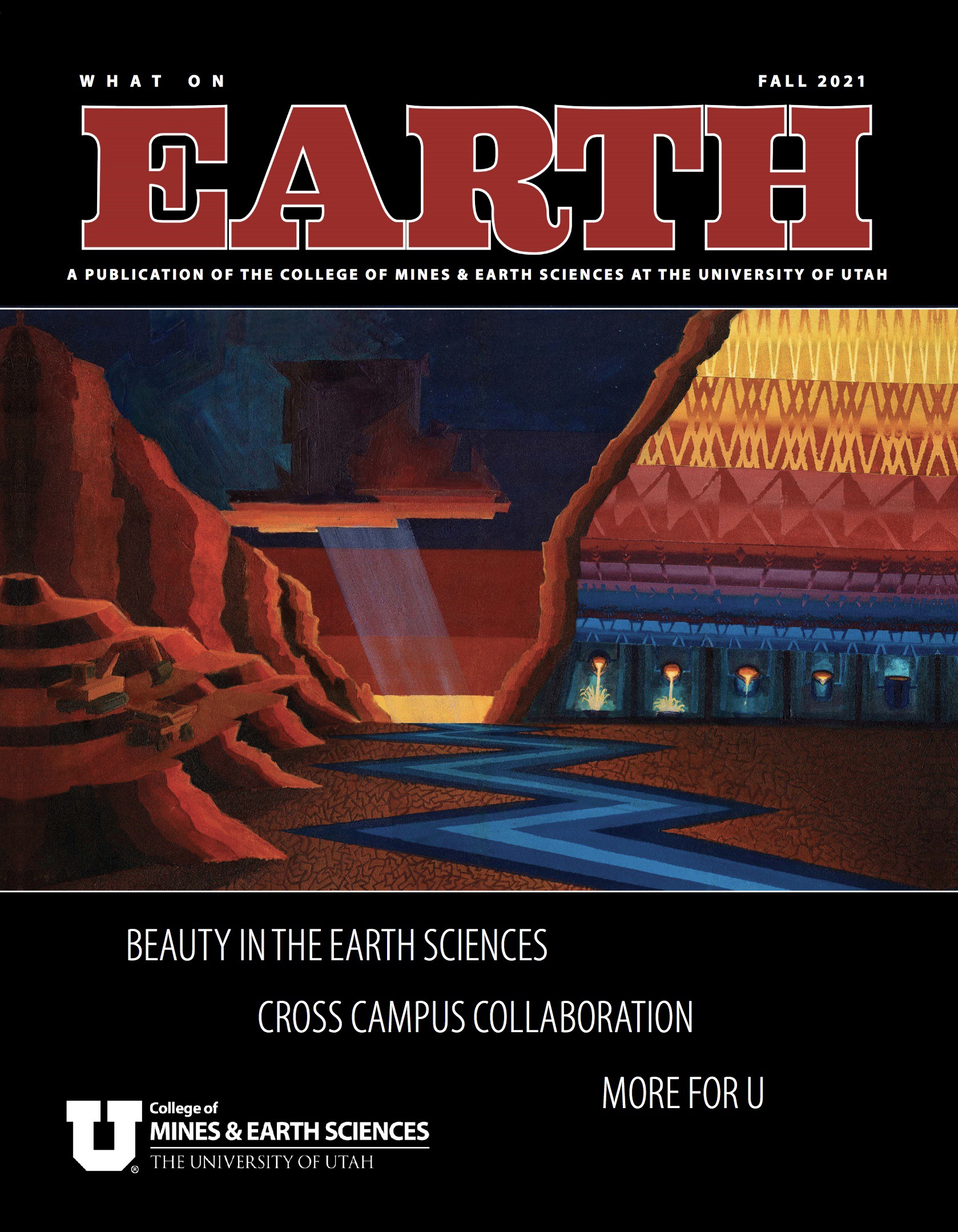 The Urban Artworks mural Walking in Beauty was featured on the cover of the fall 2021 issue of 'What on Earth' magazine, a publication of the College of Mines and Earth Science at the University of Utah. The mural, located at the east entrance of the Browning Building, was a collaborative project in the fall 2020 semester between Professor Kim Martinez's Painting Special Topics class and students and faculty in the College of Mines and Earth Science. Martinez describes how the collaboration came about:
In the spring of 2018, I met College of Mines & Earth Science's Dean Darryl Butt, a foremost scientist who studies materials process and performance in extreme conditions. I learned that he is an avid landscape painter and I invited him to join my class at the Taft Nicholson Center in Montana to plein-air paint. Those in attendance were also honored to have him present his research on the Faiyum Mummies that encompasses analyzing paint pigments at the atomic level.  It was there that we began formulating ways to create a collaborative mural for the college at the Browning Building during this residency.

For this process, student artists and College of Mines & Earth Sciences, students, faculty and staff initially met and entered into dialogue to integrate cognitive and aesthetic experiences to aid in the mural's development. This inclusive process resulted in imagery that combines Utah's surrounding lands suggesting the research of atmospheric sciences, geology and geophysics, materials science and engineering and mining engineering.

Together, artists and scientists codified our ideas into seven murals displayed online to allow for a community vote to select the work they deemed to represent the college best. After a vote that included 113 participants from the College of Mines & Earth Sciences, "Walking in Beauty" was selected as the permanent mural.
Course: Art #4180 Painting Special Topics-Murals
V. Kim Martinez
Muralists
Mikee-A-Lah Parrish
Victoria Dennis
Cassidy Giles
Nelson Morales
William Oviatt
Heydar Rasoulpourarnaei
Connor Weight