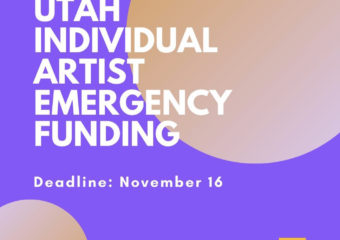 The Utah Individual Artist Emergency Funding Round 2 is a resource dedicated to supporting working artists residing in Utah who are experiencing financial hardship due to the COVID-19 pandemic. Focused on lost income, these one-time relief funds of $500 will be provided to Utah artists for as long as the fund can sustain requests.
Application Opens: Friday, November 6, 2020
Application Closes: Monday, November 16, 2020 at 5 p.m. MST
More information and application here.