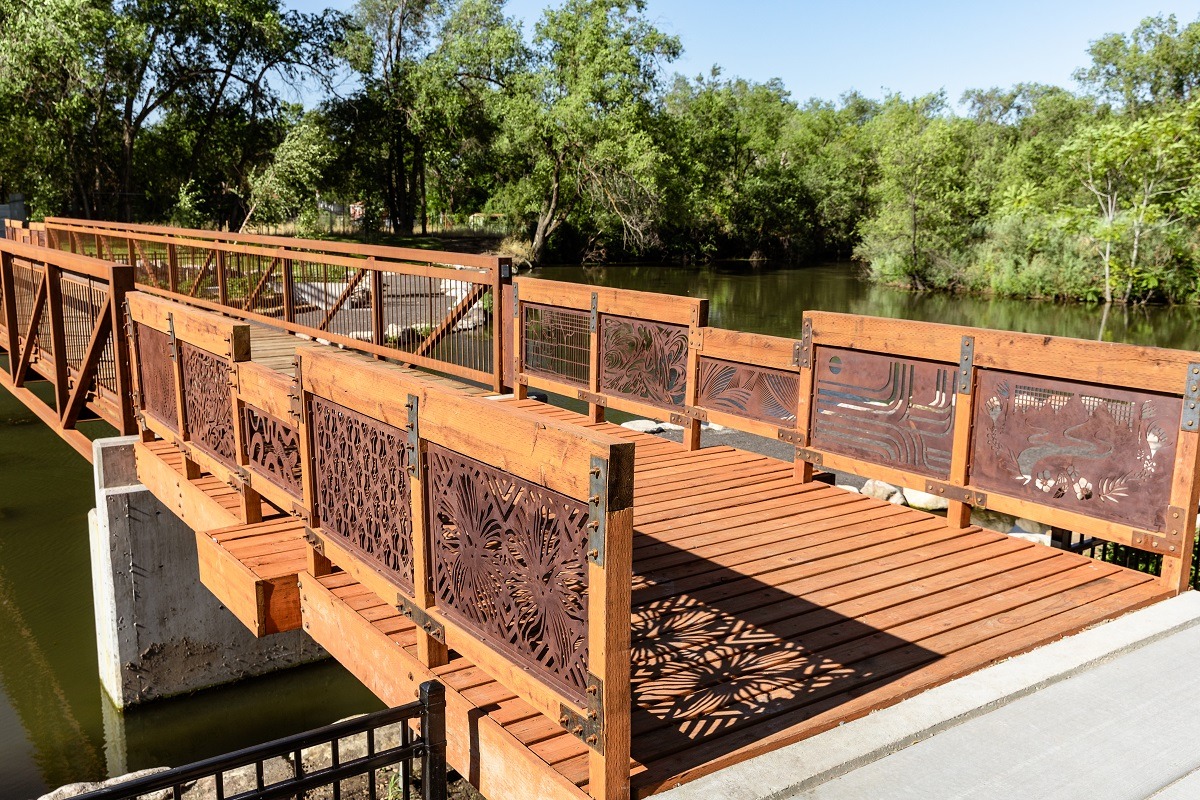 Painting & Drawing Professor Al Denyer, and alumni Joshua Graham (MFA Community Based Art Teaching, 2019) and Claire Taylor (BFA Printmaking, 2017), were among twenty artists whose designs were selected for a pedestrian bridge at Salt Lake City's new Three Confluences Park, in the Glendale neighborhood.
"Three Creeks Confluence Park is the site where Red Butte Creek, Emigration Creek, and Parley's Creek join together and empty into the Jordan River. Previously a paved-over dead end, the confluence has been day-lighted and transformed into a site for community gathering, recreation, education, and restored riparian habitat. Each of the twenty laser cut steel panels that comprise the fence on this pedestrian bridge was design by a different Utah artist. These one-of-a-kind public artworks were selected by Salt Lake City's Art Design Board from over 160 proposals and were created specifically for the Three Creeks Site. Many of the designs are by artists with a connection to the Glendale neighborhood, where the park is located, or to the unique hydrology of Salt Lake City. Themes include Salt Lake City's waterways, the natural life they support, and the communities that live in the Glendale. These laser cut designs were created using only negative space (the holes cut away by the laser) and positive space (the remaining steel); each part of the designs is connected to the whole."
An opening is scheduled for Friday, July 9th, from 5-9pm. Celebrate with live music, beer, food trucks, and more. All ages welcome! 1300 South 900 West, Salt Lake City
Learn more about the Three Creeks Confluence
Ven celebrar la apertura del parque más nuevo de Salt Lake City, Confluencia de Tres Arroyos! Con música en vivo, cerveza y camiones de comida. ¡Todas edades bienvenidas!
Aprenda más sobre la Confluencia de Tres Arroyos
Read more about the project!
Salt Lake Arts Council Website
Photo by Logan Sorenson, courtesy of Salt Lake Arts Council