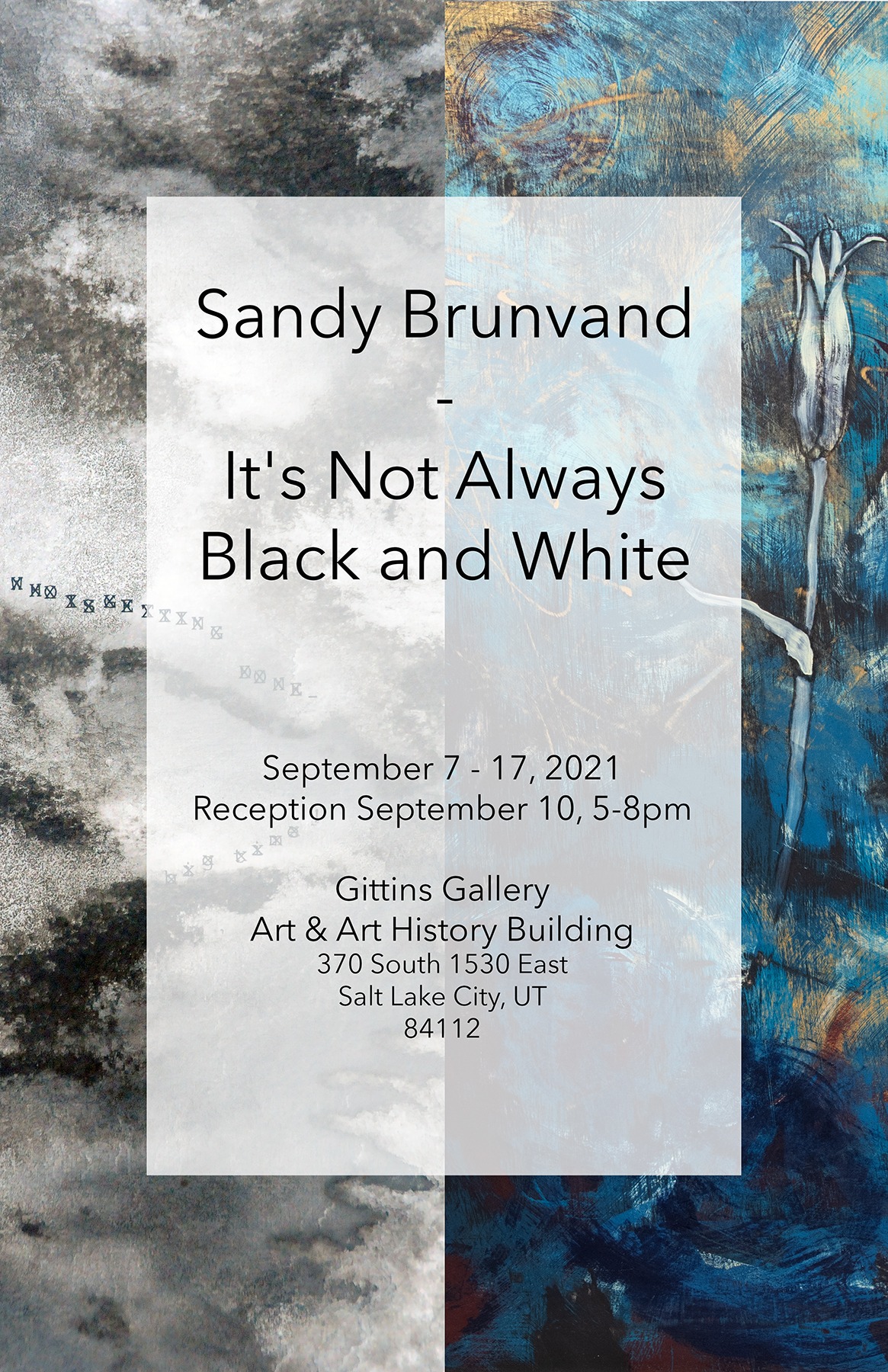 Reception September 10 5 – 8pm
Gittins Gallery
Art & Art History Building
370 South 1530 East
Salt Lake City, UT 84112
As I look back on my time on the faculty at the University of Utah, and more generally as an artist, I find it interesting how much things have changed, while at the same time how my motivation and underlying concepts have remained a solid foundation. Hiking the trails of the Wasatch, especially those in the foothills near our home almost daily, has been a significant part of my artistic inspiration. That translates to an underlying theme of landscapes seen throughout my work – but this can range from representations of physical landscapes, to more abstract political landscapes, to the looming landscape of climate change. It's not always black & white.

This show includes examples from several different series of my works, from painting, to mixed media, to my most recent works of sumi ink on paper. While the earliest piece in this show (from age four) clearly predicts a fascination with black and white abstraction, more contemporary works tend to be more colorful, and more directly inspired by physical landscapes (sometimes actually including artifacts gathered from those landscapes) and a sense of space, home, and connection to the environment. Since the 2016 election, my work took a more political turn, and a turn back to texture and tone and away from expansive color. I had been exploring small drawings of ink on fiber paper which I began to see as beautiful, but somewhat ominous dark landscapes. I realized that these landscapes were divisive in nature, mimicking the political landscape. I began to make additions of typewritten text to these landscapes taken from newspaper headlines, evoking an analog newsroom voice, and activating a narrative or dialog within the images. More recent pieces have evolved from the Divisive Landscapes by focusing on tweets rather than headlines, and by redacting those tweets to erase some of the anger and divisiveness of those statements. In these pieces I choose to allow some words to be exposed, giving them power to breathe and power to grow. My latest work explores the ecotone, the region of transition between two communities or habitats that is often richer than either one alone. I am combining pieces of older work with new drawings to create a new visual habitat. It's not always black & white.
We bid a happy farewell to Art Teaching Professor Sandy Brunvand who retired over the summer! You can read about her work in the Art Teaching area at the Department of Art & Art History HERE!