Thinking about diving into some new courses this fall? Check out these exciting interdisciplinary art history courses being offered at the U with a global perspective! Register at registrar.utah.edu/register
---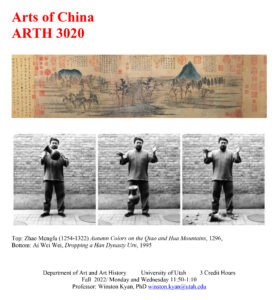 ARTH 3020: Arts of China • Professor Winston Kyan • M/W 11:50am – 1:10pm ART 158
The course introduces the arts of China from the Neolithic period to the 21st century, with particular attention paid to the contexts that have shaped the production, function, and reception of this art. These contexts include the religious contexts of tombs and temples, the social contexts of the court and the elite, and the economic contexts of trade and the marketplace. Topics include ritual vessels of the Bronze Age, Buddhist Art of the Silk Road, and the politics of contemporary Chinese art. This course is open to all majors.
---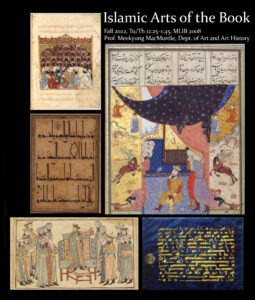 ARTH 3180: Islamic Arts of the Book • Professor Meekyung MacMurdie • T/Th 10:45am – 12:05pm M LI 2008
This course serves as an introduction to Islamic arts of the book: from the earliest Qur'ans to the lavish narratives of the Timurids and manuscripts of the early modern Safavids, Ottomans, and Mughals. Although the course is organized roughly according to chronology, we will pay particular attention to questions about materials and facture, reading and performance, copying and originality, the relationship between text and image, and the exchange of knowledge. In-person lectures and discussions of readings (including primary sources in translation) will be supplemented with visits to Marriott Library Special Collections. This course is open to all majors.
---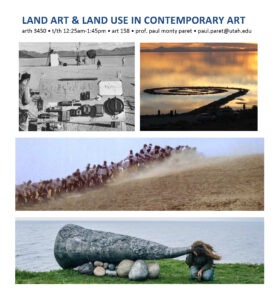 ARTH 3450: Land Art & Land Use in Contemporary Art • Professor Paul Monty Paret • T/Th 12:25 – 1:45pm ART 158
This course offers an introduction to the history of land art and environmental art from the classic "earthworks" of the 1960s and 70s to contemporary eco art, experimental geographies, and decolonizing land-based practices today. Keeping one eye on the art and altered landscape of the Great Basin region, the course will address global issues of land use in contemporary art, climate crisis, and Indigenous knowledge and sovereignty. How have artists either reflected, engaged with or contributed to changing ideas and debates about nature, wilderness, ecology, environmental sustainability, place and property? What is the relationship of land art to race, gender, violence and settler colonialism? This course is open to all majors.