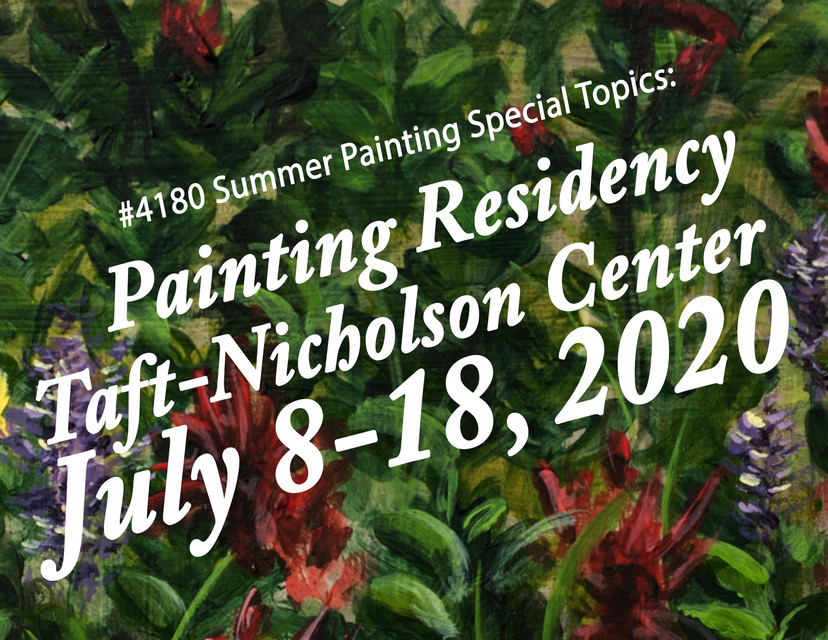 Painting Residency at the Taft-Nicholson Center
July 8 - 18, 2020
ART 4180 Painting Special Topics Residency at the Taft-Nicholson Center will incorporate intellectual growth and experimental painting techniques to develop unexpected ways of interacting with the rugged landscape of the greater Yellowstone ecosystem.
This residency experience in Montana is ideal for artists to learn, share thoughts on creativity, solve problems, and experience multiple remote natural environments in an effort to expand their visual dialogue. Through engagement in traditional and alternative painting and drawing processes, interdisciplinary environmental literacy study, and seclusion from the distractions of everyday life, students may discover unanticipated art making topics and approaches that could impact their future studio practices.
Students will be provided rustic modern dormitory style housing, receive three meals a day, and transportation to the residency fellowship. Students are responsible for three hours of tuition.
Residency Class: July 8 - 9, 9:30am - 3:00pm in ART 353
Taft Nicholson Environmental Humanities Center: July 10 - 18
Residency Information Sessions
Monday, February 3, 11:40am - 12:00pm in ART 170
Tuesday, February 18, 12:10pm - 12:30pm in ART 169
Accepting Applications Now!
Applications Due March 6
Candidates notified by March 12
For additional information, please contact Professor V. Kim Martinez (ART 356)