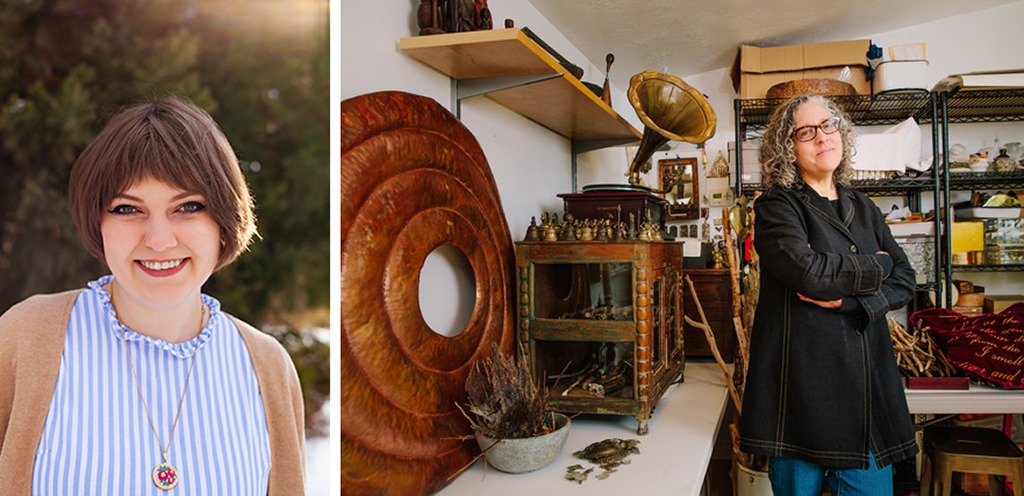 Each year at the annual Utah Art Educators Association (UAEA) conference, deserving educators and supporters are awarded educator of the year awards. We're proud to share that MFA student Sydney Porter Williams has won the 2022 UAEA Preservice Art Educator of the Year Award, and Dr. Beth Krensky was awarded the 2022 Higher Education Educator of the Year!
---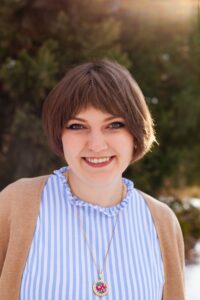 Sydney Porter Williams is a community-based teaching artist in Salt Lake City, Utah. Porter Williams earned her bachelor's degree in Art Teaching and is currently working towards a Master of Fine Arts in Community-Based Art Education at the University of Utah. Influenced by artists, educators, and writers such as Paolo Freire, John Dewey, and Olivia Gude, Porter Williams has developed and led art programming in various communities in the Salt Lake Valley, including museums, elementary schools, and afterschool programs. Porter Williams also researches various topics, such as youth, art, and activism, and creates individual artworks. She considers this work to be a part of her larger art practice as a teaching artist.
As a community-based teaching artist, I am inevitably experimenting every day, and have come to embrace the imperfection this brings in my practice. Though I strive for excellence, I have found investigating new methods and materials leads to a more enriching educational experience for all parties. While I enter a classroom with a plan outlined, I am constantly shifting my strategies based on the knowledge and experiences students bring to the table. While I rarely know how a session will develop, I have found that creating this space for experimentation and imperfection allows students to play, leading to a desire to explore and learn more. This desire for learning leads to developed skills, which leads to students believing in their own capabilities. That is my goal: to help students develop agency, a confidence that they can transform the world.
In her nomination for Porter Williams, Dr. Beth Krensky describes her as "a rare human with the vision, ability and drive to make an impact on community-based arts education. Her focus on art and social change as well as her involvement in multiple community-based art projects, exemplify her commitment to using the arts as tool for creating equity and impacting social change. Her community-based art teaching with young people is creative, innovative, and educationally extraordinary. She has taught drawing, painting and mural projects with young people from the Homeless Youth Resource Center; she worked on a mural project with young people from Murray; and she taught ongoing community-based drawing classes to underserved youth. In her first semester of graduate school, she has facilitated a semester-long class for area high school young people that combines identity and artmaking and she has taught multiple artmaking workshops to underserved area youth."
---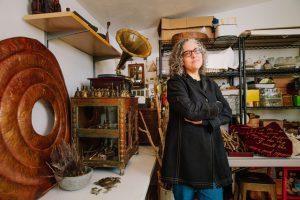 Dr. Beth Krensky has been a professor of art education and the Area Head of Art Teaching at the University of Utah since 2003. She is an artist, activist and educator. She received her formal art training from the Boston Museum School. She has exhibited widely throughout the United States and internationally. She is a founding member of the international artist collective, the Artnauts. Her work is intended to provoke reflection about what is happening in our world as well as to create a vision of what is possible. She is also a scholar in the area of youth-created art and social change. She received a master's degree with a focus on critical pedagogy and art education from the Harvard Graduate School of Education and a Ph.D. in Education from the University of Colorado at Boulder.
The theologian Frederick Buechner describes one's calling as "the place where your deep gladness meets the world's deep need." For as far back as I can remember, my deep gladness has come from engaging with others to create art and meaning. Some call this teaching. I call it being part of a community of learners who are willing to inhabit the sometimes uncomfortable space of creativity to remake the world anew. And when I am lucky, time stands still for me and I get lost in the magic of this collaborative grappling we call education. For me, it is always about experimentation. In order to fully inhabit this space, we must be willing to fail. For without the freedom to fail, I believe nothing truly great can emerge. I think this is at the root of the most meaningful forms of education, and teaching from this place is an act of bravery. I believe we must teach as if our lives and the world depended on it. Indeed, they do. I have learned so much with and from my students for so many years as we have courageously collaborated to reinvent the world.
---
Congratulations to Sydney and Beth, and all of the Utah Art Educator Association Award Winners!