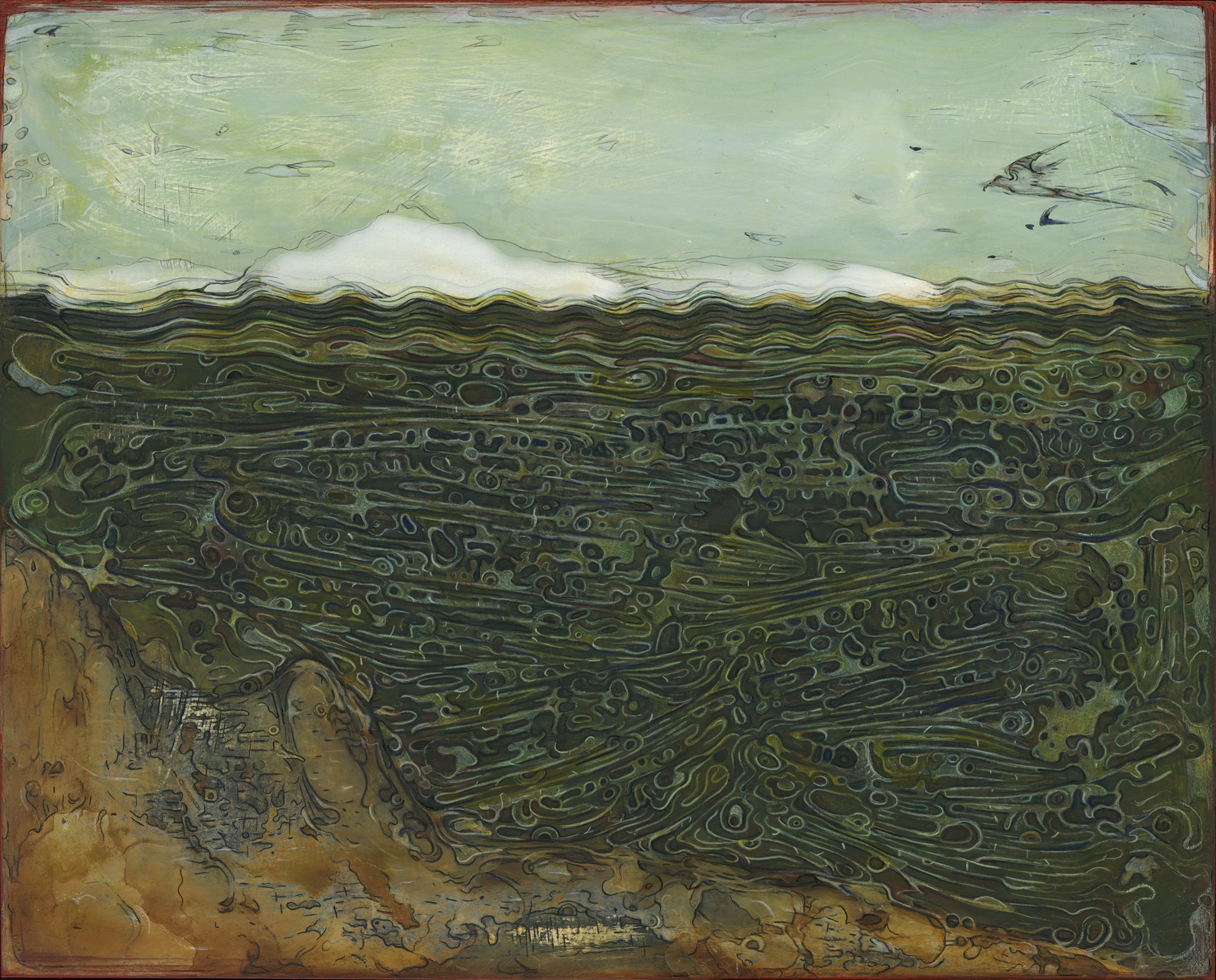 Painting & Drawing Professors Maureen O'Hara Ure & John Erickson and alumni Paul Vincent Bernard, Connie Borup, James Charles, Kamelia Pezeshki, Hadley Rampton and Nancy Vorm show work in a group show opening July 15th at Phillips Gallery.
Our Diminishing Great Salt Lake
Exploring the potential of art in the fight against climate change and offering an impetus to the public to exercise their own influence.
July 15th - August 12th, 2022
Gallery Stroll/Artists' Reception July 15th, 6 - 9 PM
Phillips Gallery 444 E. 200 South, Salt Lake City, Utah 84111
Hours: Tue - Fri: 12-5, Sat: 12-4.
Phone: (801) 364-8284, www.phillips-gallery.com
Our changing ecosystem has presented a major challenge for those living along the Wasatch Front - our Great Salt Lake is drying up! In a recent New York Times front page article, climate change reporter Christopher Flavelle cited a disturbing fact about our lake: "The air surrounding Salt Lake City [may] occasionally turn poisonous. The lake bed contains high levels of arsenic and as more of it becomes exposed, wind storms could carry that arsenic into the lungs of nearby residents," thereby directly and immediately affecting the health of our community.
We see and feel nature's wrath by way of catastrophic fires, flooding, severe storms, and droughts. Human-produced greenhouse gases have caused much of the increase in Earth's temperatures over the past 50 years. We feel helpless in the face of our rapidly changing world and would like to take action in whatever form possible. For this exhibit, several of our artists created work communicating their concerns pertaining specifically to diminishing water resources and the Great Salt Lake.
"I sometimes wondered what the use of any of the arts was. The best thing I could come up with was what I call the canary in the coal mine theory of the arts. This theory says that artists are useful to society because they are so sensitive. They are super-sensitive. They keel over like canaries in poison coal mines long before more robust types realize that there is any danger whatsoever."
--Kurt Vonnegut, Chicago Tribune Magazine (22 June 1969)
Participating artists: Paul Vincent Bernard, Liberty Blake, Connie Borup, Ron Brown, James Charles, Connie Erickson, John Erickson, Jim Frazer, Sandy Freckleton Gagon, Hunter Jackson, Randee Levine, Downy Doxey-Marshall, Joseph Ostraff, Kamelia Pezeshki, Gini Pringle, Hadley Rampton, Austin Palmer-Smith, Leslie Thomas, Maureen O'Hara Ure, Wendy Van de Kamp, and Nancy Vorm.
Image: Ghost Lake, Maureen O'Hara Ure, 2022