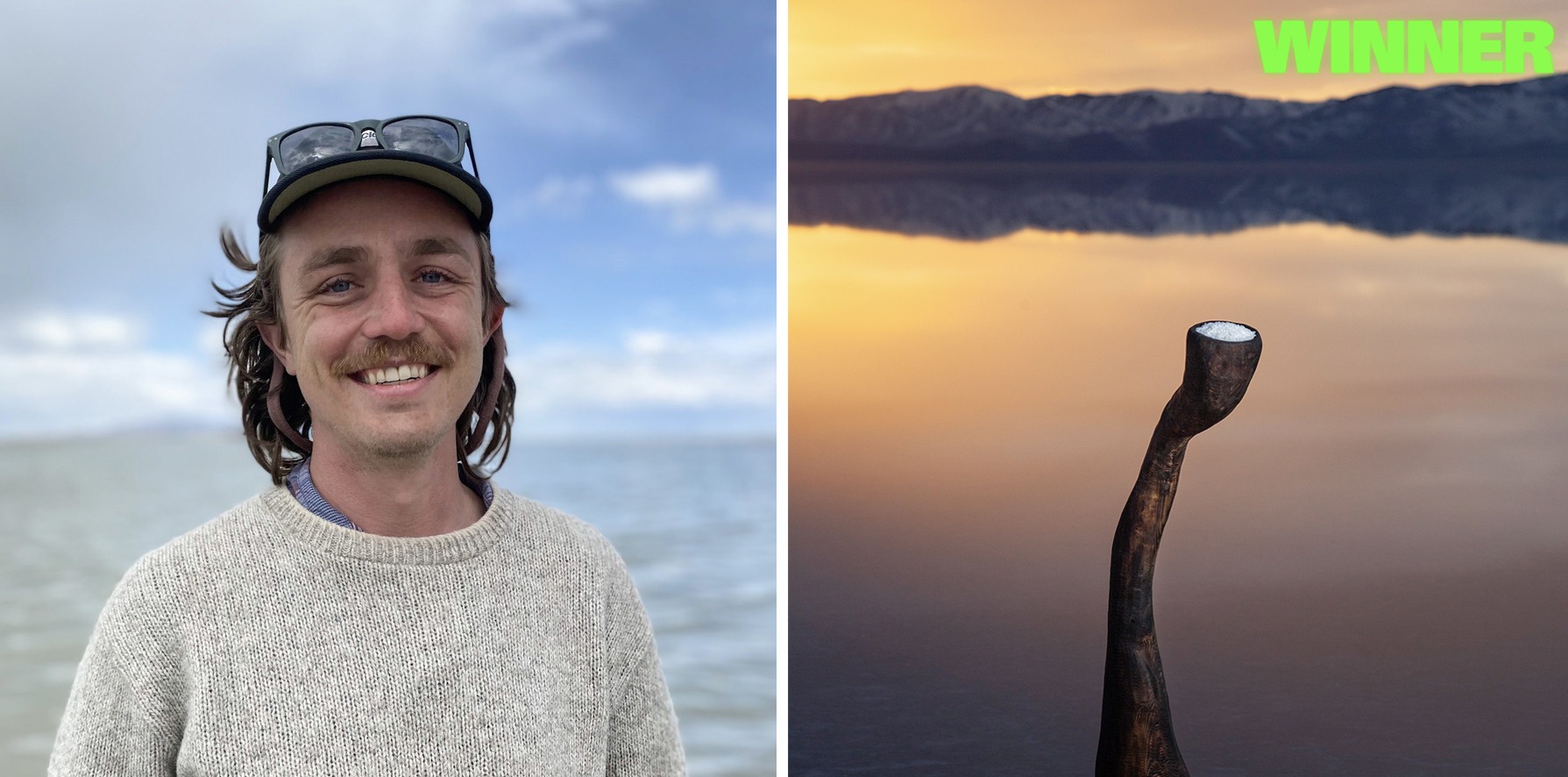 Big congratulations to MFA candidate Douglas Tolman, one of three winners of the Frankenthaler Climate Art Awards! Tolman's work, Last Gesture, uses wood sourced from a reclaimed pine pallet that carried consumer goods to Utah and salt from the evaporating Great Salt Lake, reflecting his dedication to sense of place and connection to community. Tolman is currently a Global Change and Sustainability Center Fellow at the University of Utah.
An inland sea disappears before our eyes. Coastal wildfire smoke drifts into the basin, mingling with dust particles from a dry lake bed. We are downwind, with an economy reliant on poor land-use practices which cause ancestral forests to burn and inland seas to dry up. The land has offered so much to us, a gesture that has allowed our species to flourish around the planet. When will we offer something in return? The wood which sculpts Last Gesture is sourced from a reclaimed pine pallet that traveled to Salt Lake City carrying consumer goods. After being dismantled and reformed into its new shape, the surface was symbolically burned and placed into conversation with salt extracted from the quickly evaporating Great Salt Lake. Though this work is specific to the place I call home, lakes and forests around the world are facing similar problems and require similar solutions. –Douglas Tolman
Presented by Asia Society and the Helen Frankenthaler Foundation, the Frankenthaler Climate Art Awards aim to foster climate change awareness through the imagination and insights of an upcoming generation of visual artists.
The three winners are selected from this shortlist by a jury of leaders from the collaborating institutions: Melissa Chiu, Director, Hirshhorn Museum and Sculpture Garden; Molly Donovan, Curator of Contemporary Art, National Gallery of Art; Dorothy Kosinski, Vrandenburg Director & CEO, The Phillips Collection; and Michelle Yun Mapplethorpe, Vice President for Global Artistic Programs at Asia Society and Director of Asia Society Museum, New York.
Each winner will receive $15,000 and be honored in April 2022 in Washington, D.C. on the occasion of Asia Society's COAL + ICE exhibition and panel discussion. The panel will focus on the power of artists as advocates for change and how policy makers and artists have and can collaborate effectively. Each participant will speak about their commitment to climate change work, then engage in a group discussion. You can watch the livestream from 2-4pm EDT on April 2nd.