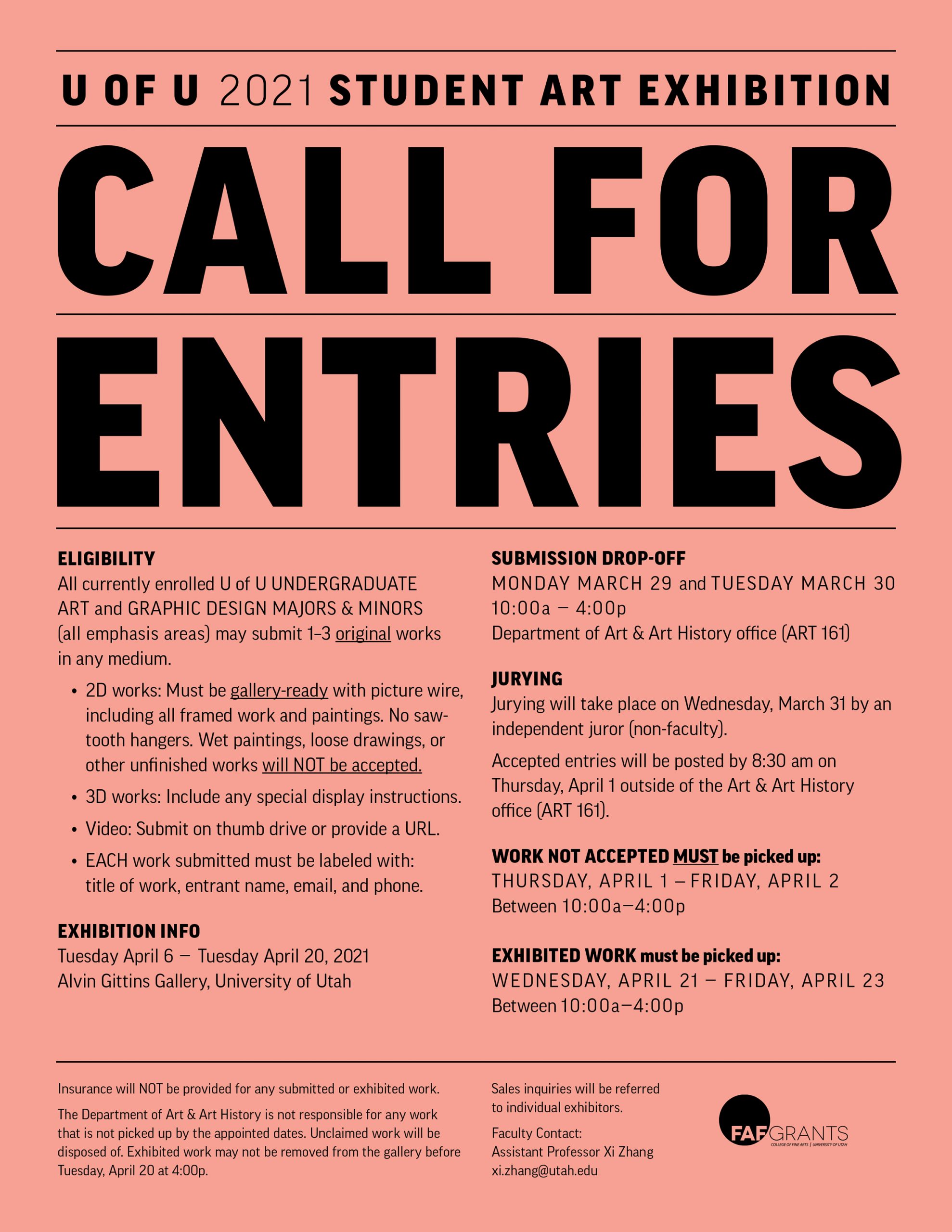 U of U 2021 Student Art Exhibition Call for Entries
ELIGIBILITY
All currently enrolled U of U UNDERGRADUATE ART and GRAPHIC DESIGN MAJORS & MINORS (all emphasis areas) may submit 1–3 original works in any medium.
2D works: Must be gallery-ready with picture wire, including all framed work and paintings. No sawtooth hangers. Wet paintings, loose drawings, or other unfinished works will NOT be accepted.
3D works: Include any special display instructions.
Video: Submit on thumb drive or provide a URL.
EACH work submitted must be labeled with: title of work, entrant name, email, and phone.
EXHIBITION INFO
Tuesday April 6 — Tuesday April 20, 2021
Alvin Gittins Gallery, University of Utah
SUBMISSION DROP-OFF
MONDAY MARCH 29 and TUESDAY MARCH 30 10:00a — 4:00p
Department of Art & Art History office (ART 161)
JURYING
Jurying will take place on Wednesday, March 31 by an independent juror (non-faculty).
Accepted entries will be posted by 8:30 am on Thursday, April 1 outside of the Art & Art History office (ART 161).
WORK NOT ACCEPTED MUST be picked up:
THURSDAY, APRIL 1 — FRIDAY, APRIL 2 Between 10:00a—4:00p
EXHIBITED WORK must be picked up:
WEDNESDAY, APRIL 21 — FRIDAY, APRIL 23 Between 10:00a—4:00p