ON CAMPUS
Regional Juried Printmaking Exhibition. 14th October-8th November 2013.
Gittins Gallery. Art &Art History Building.
This is a competitive exhibition that will showcase the diversity of regional contemporary printmaking, The juror will be Bud Shark Master Printer/Director Bud Shark of Shark's Ink.
In 1976, Bud Shark opened Shark's Lithography Ltd in Boulder, Colorado, and relocated the studio as Shark's Ink, to Lyons, Colorado in 1998. Shark has printed and published an extensive and eclectic body of prints collaborating with over 150 distinguished and innovative contemporary American artists since opening in 1976.
Selections from the Book Arts Collection.
Marriott Library.
1. Book Arts Program Residents and Recent Student Work — Located in the Levels 1 and 2 Display Cases.
Graduate and undergraduate students, studio residents, and independent studio users produced this work at the Book Arts Program between 2011- 2013. Part of the J. Willard Marriott Library since 1995, the Book Arts Program champions wide-ranging explorations of the book. In our fully equipped studio, bookbinders, printers, and book artists utilize metal and wood type, letterpresses, photo engravings, and bookbinding equipment as they combine traditional techniques with modern aesthetics and technology.
2. The Vista Sans Wood Type Project — Located on Level 3
The Vista Sans Wood Type Project began with a desire to make wood type for letterpress printing from a favorite digital typeface. To do so, Tricia Treacy and Ashley John Pigford, the project's founders, built a computer numerically controlled, (CNC), router and began to experiment. They sent out sets of wood type to artists/designers/printmakers that they admired to see what they would do with it. Each participant received the word "touch" in 5-inch or 7-inch wood type, plus a stack of paper, and were asked to interpret the word and material however they pleased. The resulting set of prints show the cross-disciplinary nature of contemporary letterpress printing.
3. Red Butte Press Retrospective — Located in the Level 1 Gallery
Established in 1984 when premiere Bay Area printers Lewis and Dorothy Allen offered an 1846 Columbian hand press to the J. Willard Marriott Library, the Red Butte Press has produced fourteen major publications. This exhibition includes books published since 1995 and framed production materials from the last two projects. These fine press books range from collaborations with other institutions, publishers, and binders to the most recent work produced entirely on site. The press honors and extends the traditions of fine press printing, producing finely crafted, limited editions. Committed to contemporary dialogue, the Press publishes essays focused on the western states as well as the best in modern fiction and poetry. By commissioning original artwork, using quality paper and binding materials, and printing letterpress, the Red Butte Press staff makes each book a reflection of its contents.
Sharing the same staff as the Book Arts Program, the Red Butte Press has become a teaching press that supports the MFA in Creative Writing/Book Arts as well as the Minor and Certificate in Book Arts. Most recently focused on publishing innovative writing from University of Utah faculty, the Press has published unique book objects, born and bred on campus. With the most recent project, Craig Dworkin's CHAPTER XXV, staff members and students facilitated the project from editing and papermaking, through design and printing, and finally through binding the edition.
"Respectfully Silent Utterly Defenseless".
Marriott Library. Level 2.
A public art project by Jeffrey Baykal-Rollins. An ironic take on recent NRA statements about gun-violence in America. This project is curated by Lanfranco Aceti, with the support of Goldsmiths College London, Leonardo Electronic Almanac, and Sabanci University Kasa Gallery in Istanbul.

Work by current and recent Printmaking majors from the University of Utah.
Marriott Library. Level 1.
April Bolz, Tonii Humphries, Ryan Kowalchik, Kyle Luntz, Christopher Osborn, Michael Perez, Steven Thueson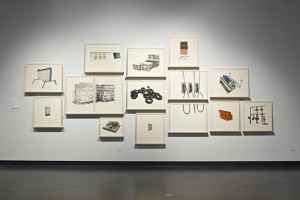 Kevin Haas: Inventory.
Marriott Library.  Level 5.
This exhibit of prints from Haas's ongoing series titled Inventory document commonplace objects and detritus from the built environment. Presented in a manner akin to the prints produced by 19th Century naturalists, they are both triumphant and futile. Carefully rendered, they provide close examination of the overlooked materials and objects around us, perhaps revealing a newfound awareness and understanding of their purpose. But they also identify the unending quantity of these things, and that no mater how carefully he captures them they still exist beyond our control or ability to manufacture ourselves. His prints question the reach of art and the impact our mass produced world has on our lives.
OFF CAMPUS
Sugarhouse. (Area south of Downtown. Transport provided).
Wayne Kimball and Robert Kleinschmidt.
Saltgrass Printmakers. 2126 S 1000 E,  Salt Lake City.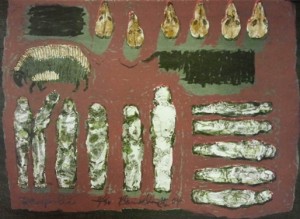 Robert Kleinschmidt. "Necopolis".
Lithograph.
Robert 'Bob' Kleinschmidt studied at the University of Wisconsin where he earned his M.A. in 1996, and his  M.F.A. in1969. A thoughtful and sensitive printmaker with a sense of humor to match, this artist and faculty member at the University of Utah studied at the University of Wisconsin (M.A.,1996; M.F.A.,1969) before moving to Salt Lake CIty, Utah. Kleinschmidt's art makes for a rewarding change of pace within a contemporary context of art and college art teaching wherein the initial impact of hollow works and "God's gifts" to the studio major have all too often replaced depth of thought and serious teaching involvement. Kleinschmidt has participated in numerous exhibitions.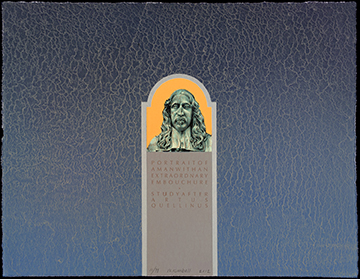 Wayne Kimball. "Portrait of a Man with an Extraordinary Embouchur".
Lithograph.
Wilford Wayne Kimball was born in Salt Lake City in 1943. He is a printmaker whose lithographs are arrangements and juxtapositions taken from medieval icons. He lives in Pleasant Grove, Utah.
Kimball earned an MFA from the University of Arizona, Tucson in 1970. He was also certified as a Tamarind master printer by the University of New Mexico in 1971. Kimball taught at the University of Wisconsin at Madison, California State University at Long Beach, and at the University of Texas at Austin before he joined the faculty at Brigham Young University in 1984.
Kimball exhibits his lithographs both nationally and in Utah. His work has appeared in the Prints and Paper juried exhibition at the San Diego Art Institute and at the Impressions invitational at the Malton Gallery in Cincinnati, Ohio. Kimball's prints, 2nd Elddir Without the (Ernst) Nightingale (1987) and Home Barbatus Cum Tanto Dolore Capitus (1994), are included in the Springville Museum of Art's permanent collection.

Young Utah Prinmakers.
The Sugarhouse Gallery. 2160 S. Highland Drive, Salt Lake City.
John Andrews, Andy Joy Chase, Annastasia Copeland-Rynder, Laura Decker, Emily Dziuk, Tyler Hackett, Jared Nielsen, Evan Jed Memmot, Ryan Perkins, Andrew Rice, Tia Sheppard, Claire Taylor, Brian Taylor, Mary Toscano and Lucia Volker,

OFF CAMPUS
Downtown Galleries. (Friday 18 October is also Salt Lake City Gallery stroll).

Red Queen Book Arts. 171 East Broadway (300 South), Salt Lake City.  Details soon.
"Printshow".
CUAC Gallery.
 175 East, 200 South, Salt Lake City.
Open October 18, 6-9pm.  up October 18-November 9.
Chris Coy (Los Angeles), Katrin Koenig (Germany), Lindsey Winkel (Brooklyn/SLC), Emi Brady (Denver), Colin Nesbit (Kentucky) and Ricky Allman (Kansas)
HALLOWEEN BLACKLIGHT POSTER EXTRAVAGANZA.  18th Oct. One night only!
Copper Palate Press. 160 East, 200 South No B, Salt Lake City.
In conjunction with the Downtown Gallery Stroll and Halloween, Copper Palate will be having their Annual Halloween Bash. This year they will be featuring collaborations between Copper Palate Press members and local Salt Lake City bands to create original artwork for screenprinted Flourescent and Glow-in-the-Dark posters. Live music.
On Saturday October 19th (7:00 pm until 2:00 am) MEET THE MEMBERS OF COPPER PALATE PRESS. Work by Copper Palate members only. This will be to showcase the work that has come out of this shop in the past few years.
Links for Copper Palate Press:
https://www.facebook.com/pages/Copper-Palate-Press/213570172043846
http://craftlakecity.com/blog/gallery/artist-workshop-series-copper-palate-press/
Ken Sanders Rare Books. 268 South, 200 east.
Utah Printmakers Invitational.
City Library. 210 E. 400. S, Salt Lake City.
A group exhibition of prints by selected artists throughout the state of Utah. Curated by Al Denyer.
Printmaking in Utah holds a prominent position amongst some of the State's most cutting edge contemporary artists. Utah Printmaking's rise in popularity is evident through the increasing number of artist run print shops, as well as the recognized national and international level of the State's university and college printmaking and book arts programs.
This exhibition will bring together the work of a diverse group of printmakers from across the State of Utah. All of the artists in the show contribute to the strength of printmaking as a fine arts practice in Utah today.
I have curated works by a group of artists whose work shows the diverse possibilities of printmaking, from traditional etching, relief, letterpress and stone lithography; to more contemporary approaches such as photo etching, digital printmaking, three dimensional prints and installation.
Participants: Ed Bateman, Erik Brunvand, Sandy Brunvand, Justin Diggle, Al Denyer. Robert De Groff, Stephanie Dykes, Meredith Jones Hendricks Brent Haddock, Adam Larsen, Susan Makov, Marnie Powers-Torrey, Kathy Puzey, Andrew Rice,
K Stevenson, David Wolske.

UMFA exhibitions on campus. These were not organised for the symposium but were part of their scheduled programing.

Under Pressure:
Contemporary Prints from the Collections of Jordan D. Schnitzer and his Family Foundation.
September 5- January 5 (2014)
Utah Museum of Fine Arts.
This exhibition presents selections from the largest collection of contemporary prints in the United States. Spanning the past five decades, it features works by thirty-nine artists from Jasper Johns and Sol LeWitt to Damien Hirst, Kiki Smith, and Kara Walker. Under Pressure charts an array of artistic and social concerns, from minimalism to pop and conceptual art, and more recent works addressing race, gender, and identity.
Martha Wilson: Staging the Self. August 30 – November 10, 2013.
Martha Wilson's career, spanning forty years, encapsulates the contestations inherent in feminist and socially engaged practices. In her work and throughout her life, Wilson has explored how identity and positioning are not just self-defined or projected, but also negotiated. The complex nature of her work encompasses her activities as an artist, creating conceptually-based performances, videos, and photo-text compositions since the early 1970s; her position as the founder and director of the non-profit space Franklin Furnace; and her collaboration with other women to form the group, DISBAND among many other things. Wilson's attitude to collaboration and openness to constantly redefining both personal and collective identities make her a central figure with which to collaborate on producing this exhibition that explores current approaches toward feminism, activism, and collaborative practice.
UMFA Opening Times. Tuesday – Friday|10 am–5 pm.  Saturday and Sunday|11 am–5 pm.