Sharpie Marker Flats for Stone Lithography.
Adam Montoya and Colleen Donohoe (Graduate Program. Arizona State University).
Printshop. Rm 252, Art & Art History building.
Using the lithographic facilities at the University of Utah, we will demonstrate the preparation of the stone and execution of printing marker flats.  Starting from a stone that has been previously printed to produce a key image traditionally, the image is removed and the subsequent flats are drawn directly on the stone with Sharpie markers. What is unique is that these images build upon the key image using transparent colors, instead of vice-versa, and are quickly executable without the need to counter-etch.
The marker flats only require gum arabic to set and are easily removed for each subsequent layer with denatured alcohol. Fast drying times, easy application and a quickened printing workflow allows for color layers to be realized in a much less time-consuming way.
The Experimental Lithographer: Fun, Fast, and Easy Lithography Techniques Using Stuff You Probably Have on Hand.
Carrie Kaser (Albuquerque, NM).
Printshop. Rm 252, Art & Art History building.


The introduction of lithography in 1796 changed the way people consume images. No longer relegated to the privileged, the efficient production of multiples made artistic images and visual representations available to everyone. As a printmaking technique, however, lithography remains an often inaccessible medium requiring specialized presses, exposure units, ink rollers, harsh chemicals, and hard-to-acquire matrices. But lithography can be easy, fun, and enjoyable using simple tools that are easily acquired and inexpensive. Forget the big presses and heavy stones — this is litho for the rest of us.
This demonstration will provide a framework for understanding the principles of lithography and introduce the following techniques:
• Polyester Plates (aka Pronto Plate, Smart Plate, Xante Plate)
• Drawing Materials including ball point pens, permanent markers, and spray paint • Curing and cleaning the plates
• Modifying ink for printing from polyester plates
• Xerox images and text
• Easy techniques for Aluminum Plate Lithography
• Printing litho on an etching press
• Printing without a press
Extra attention will be given to discussing how and why these processes work as well as troubleshooting of specific (and sometimes common) problems. Participants will leave the demo with an understanding of lithography and the necessary knowledge to begin making lithographs. Handouts and demonstration notes will be provided. This demonstration is intended for audiences with some background knowledge of printmaking, but no previous experience with lithography is required.
+/- Letterpress Principles (A series of short demos).
Book Arts Studio. 4th Floor, Marriott Library.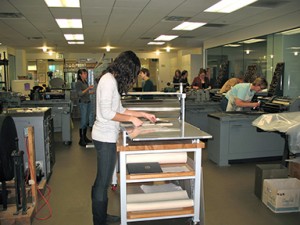 Marnie Powers-Torrey/Mary Toscano.
Using make-ready as a design strategy (pressure printing), a textured and graded image can be pulled from a shaped, planographic surface in a single run.
Claire Taylor.
By printing with a heavy, blind impression and then overprinting with a second run of a broad solid, a unique white-line image results.

Becky Williams Thomas.
Inked areas of relief prints can be used as a resist for ink washes.
David Wolske.
By combining a frisket and custom cylinder packing, abstract wood type compositions may be safely and effectively editioned.