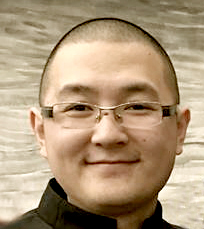 Xi Zhang's paintings manifest the psychological weight experienced in moments of turmoil and tribulations. In his oneiric narratives, melancholia is a familiar companion – overbearing landscapes and foreboding atmospheres suppress his lonely protagonists, obscuring the delineation of fantasy and reality. Conflating the styles of the East and the West, Zhang's luscious brushstrokes recall water-colored mountains of antique Chinese scrolls, but also the staining of the Abstract Expressionists such as Helen Frankenthaler. It is upon Zhang's cathartic vistas that such polarities congeal.
Born in 1984 in Kaifeng, China, Xi Zhang completed his studies in painting at China's Beijing Institute of Art and Design. He moved to the United States to further his artistic training at Denver, Colorado's Rocky Mountain College of Art and Design. He received his Bachelor of Fine Arts in painting from RMCAD in 2008, and that same year was recognized by then Denver Post art critic Kyle MacMillan as the "Emerging Artist of the Year" for his "well developed, surprisingly mature vision." Zhang continued from there with his masters studies in painting at the University of Colorado, Boulder, receiving his MFA from the institution in 2011.
Zhang's work had notable shows including Song Zhuang Multimedia Art Exhibition at Song Zhuang Art Museum in Beijing (2006), URRA in Argentina (Buenos Aires 2012), Ornaments at White House (2012), and Biennale of America in U.S. (2013). His work was featured on media as CNN (2011), Art ltd Magazine(2012), PBS (2013), NPR (2013), and Juxtapoz Magazine (2014). Zhang also was awarded Emerging Artist of Year (2008), The Pathmaker (2011), Top twelve artists under age 35 (2012), The Catherine Doctorow Prize in Contemporary painting (Nominated 2015), The John Moores Painting Prize (China, Finalist 2016), and Gold Award Winner in painting from Art Forward Contest (2016).
Zhang is represented by PLUS Contemporary Fine Arts Gallery in Denver and Marc Straus Gallery In New York.