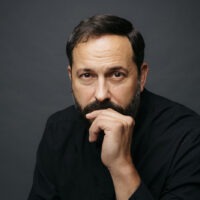 Born in Birmingham, AL, Moses Williams grew up in Alabama and Nashville, TN. He received a BFA from Watkins College of Art, Design & Film in Nashville, TN and an MFA from Carnegie-Mellon University in Pittsburgh, PA. Moses currently resides in Salt Lake City, Utah.
Moses' art practice explores the inseparable nature of cognitive and material experience as it is lived both in and through the body. Working in sculpture, installation, performance, video, and sound, he investigates themes of sensuality, empathy, the abject, the sacred, ritual, suffering and loss. Moses is invested in both materials and process. This is evident in his art practice and in the classroom. He utilizes woodworking, object design, metal fabrication, foundry work, industrial casting and mold-making, and non-traditional art materials. His practice is an intentional pursuit of the substantive and experiential aspects of what we encounter, a phenomenological examination of the relationship between bodies, materials, objects, and things. It is a lifelong attempt to develop whole-bodied awareness, to deeply question experiences, and to wonder about the possibilities in actively, consciously, and intimately engaging with others and the environment.
He has exhibited and performed throughout the United States and Europe, including Apex Gallery in New York, Das KloHäuschen Art Center in Munich, Germany, Der Kulturanker in Magdeburg, Germany, the Andy Warhol Museum in Pittsburgh. Moses collaborated with The Nashville Ballet and Alias Chamber Ensemble, and with the residents of Unit 2 (the Death Row unit) at Riverbend Maximum Security Institution in Nashville, TN on a project with multiple exhibitions spanning several years.