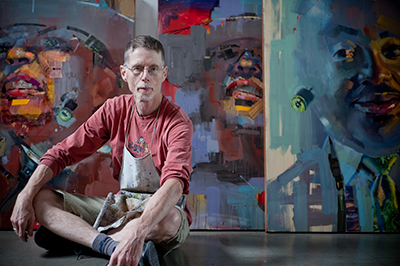 John Erickson was born and raised in Salt Lake City, Utah. In 1976 he received a BFA in Painting and Drawing from the University of Utah, studying under the direction of Alvin Gittins and Douglas Snow. In 1975 he attended The Summer Fellowship at Yale University, studying with Wolf Kahn, Louis Finkelstein and Phillip Guston. He returned to the University of Utah for graduate school and received his MFA in 1981.
After graduating, he began teaching fine art at the University of Utah and has been an Assistant Professor there for over twenty years. He also teaches summer workshops and is involved in Art Access, a program that brings the arts to those who otherwise would not have the resources to explore it.
John enjoys a variety of mediums including latex, acrylic, oil and oil pastels. His love of nature stems from having spent a lifetime in the outdoors hiking and exploring the backcountry wilderness.
His works are an exploration of interior and exterior space and planes. Landscapes made by man and nature are quoted with commentary and depth. His longtime study of figure structure gives grounding to free brushwork and reflective boundaries, broken and kept.