Welcome to the 2021 Juried Student Art Exhibition
It was an honor to serve as this year's juror for the University of Utah's Department of Art & Art History Annual Student Art Exhibition. As I spent time with each of the entries, it was incredibly exciting to see the creativity, skill, and thoughtful reflection that shone through in these students' work. There were multiple pieces that invited me to return to them again and again, to dive into their details and be transported by their beautiful execution and depth of ideas. Delicate and subtle gestures demonstrated their incredible power.
This year's selected works represent a diverse range of media, concepts, and artistic concerns. Across painting, drawing, photography, printmaking, sculpture, and more, the artists have explored the potential of their chosen medium to create compelling works of art. Some pieces reflect an earnest study of long-established technique while others powerfully embrace untraditional materials to capture the contemporary moment, revealing so much of what we've individually and collectively experienced this past year.
Thank you to the incredible faculty and staff for your perseverance through these challenging times, and for the many ways that you have supported and inspired your students. I am excited to continue watching the work of these talented artists in the coming years. Congratulations to everyone involved in this year's exhibition!
-Nancy Stoaks, 2021 Juror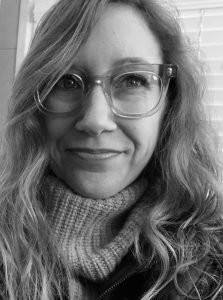 Since moving to Utah in 2014, Nancy Stoaks has worked as the Associate Director of CUAC in Salt Lake City and then as Curator at Park City's Kimball Art Center. She earned her MA in Art History from the University of Washington, where she studied twentieth-century European and American art, focusing in particular on Niki de Saint Phalle's shooting paintings of the early 1960s. She has since lectured on this topic at universities, conferences, and museums, including the Seattle Art Museum and Tate Liverpool. Originally from the Pacific Northwest, her prior experience includes time as a Curatorial Associate at Seattle's Frye Art Museum, as Director of James Harris Gallery and Howard House Contemporary Art, and as Curator of the Swedish Medical Center art collection, an esteemed collection of Northwest art.
Award Winners
Juror Selection - Best in Show: High Tides, William Oviatt
Faculty Selection - Best in Show: Mirror, Kevin Cody
Best in Show Runner-Up: Conflict with Insecurity, Madison Wing
Best in Show Runner-Up: Hector, Mitch Allen
Best in Printmaking: No Song Left to Sing, Carlissa Shaw
Best in Printmaking Runner-Up: A World Where Everything Seems to be Alright, Jeni Jolley
Best in Photography: Mirror Study #3, Nate Francis
Best in Photography Runner-Up: Paradise, Carlissa Shaw
Pictureline Winner: Years hide 'neath seconds, Brandon Woodward
Blick Winner: Deflation of Flesh, Bea Hurd
Dean's Purchase Award: Mirror, Kevin Cody
Union Purchase Awards: La Muerta, Melissa Lira

The 2021 Juried Student Exhibition runs April 6 - 20, 2021 in Gittins Gallery in the Art & Art History Building. We welcome you to visit Monday - Thursday 10am - 4pm, Friday 10am - 2pm. Please read our Coronavirus campus precautions before your trip. Made possible with support from the Department of Art & Art History, the College of Fine Arts, and FAF Grants.