We are proud and honored to present the Juried Student Exhibition for 2020, a showcase of some of the best artworks of our students.  I applaud the skill, imagination, and perseverance of the student artwork presented here, these students are emerging professional artists in Painting and Drawing, Graphic Design, Photography, Art Education, Printmaking, Ceramics and Sculpture.
Usually this is an exhibition that is presented in our Gittins Gallery, but for the safety of students, faculty, and the public, we have moved the exhibition into an online format. It is an unorthodox solution for a challenging time.  Although we cannot supply the same experience of being in the presence of the artwork in person, the online format provides a way to contemplate the individual artworks in more detail than would be possible in a large gallery space.
-Paul Stout, Chair, Department of Art & Art History
I believe artists are visionaries and risk takers who poke into the darkness to draw out the starlight for others. Even though our current reality is dyed with fear of the global spread of the coronavirus, we can sculpt new realities and futures by believing in and creating new visions and dreams. Each step and advancement in human progress comes from an idea. Every artist has the power to shift and change realty.
During this challenging time, students from the University of Utah Department of Art & Art History did not surrender to their fears, but demonstrated their courage and strength by sharing their visions with others. Even though the virus started as one tiny phenomenon, it rapidly had a negative effect on the world. Every event, no matter how small, has an effect and the opportunity to make change. Similarly, this exhibition of artwork from University of Utah students can positively effect the rest of the world. 
This year, based on Jorge Rojas' selections, we have almost one hundred artworks in this exhibition. Each artwork opens the door for a fresh possibility to think, live, interact, and experience reality differently. Although currently all of us are physically distanced, we are deeply connected. The visions of the University of Utah art students connect us through hope and possibilities. Let us give high praise and gratitude to each of the creative minds in this exhibition.
-Xi Zhang, Assistant Professor in Painting & Drawing and Exhibition Director
It was an honor to serve as guest juror for the University of Utah's College of Fine Arts 2020 Annual Student Art Exhibition. I was impressed by both the number and caliber of artworks submitted, which made for a challenging but exciting selection process. As an artist, curator, and educator who enjoys experiencing all types of art both locally and internationally, it was thrilling to see the level of creativity and skill that these student artists display in this exhibition. There were standout works in various media, including photography, drawing, painting, printmaking, sculpture, and installation—and I was particularly impressed with the video and performance-based entries.
This year's show is unique in that, due to precautions being taken to prevent the spread of Covid-19 in our community, the jury process and presentation of the work are taking place online. At this time of physical separation and with so many aspects of our lives changed, we see our world gripped by the effects of this terrible threat. This historical moment will be memorable for each of us, and the students will no doubt reflect upon the time they showed their work during the pandemic of 2020. While I would have preferred to experience the work in person and for the public to see it installed in the Gittins Gallery, it's interesting to think about how the work in this show can be considered through the lens of these unprecedented circumstances. It becomes difficult to consider a landscape, self-portrait, or a digital work of art without framing it in reference to the moment in which we live.
I commend the department's faculty for their dedication to teaching, challenging, and inspiring their students—and for responding quickly to the current situation by moving the exhibition online. Perhaps now more than ever, we need new platforms to show and experience art. As the times have reinforced, art in all its expressions seems to be the unifying thing that all people turn to for joy, comfort, healing, solace, and a sense of community.
Congratulations to all of the students, faculty, and staff on a great exhibition!
-Jorge Rojas, Director of Learning and Engagement at the Utah Museum of Fine Arts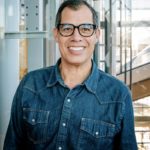 Born in Morelos, Mexico, Jorge Rojas is a multidisciplinary artist, independent curator, and museum educator. He studied Art at the University of Utah and at Bellas Artes in San Miguel de Allende, Mexico. Rojas creates performances, videos, paintings, sculpture and installations. His primary output for the last twelve years has been performance art, which interests Rojas in its ability to bring people together, as well as provoke public engagement, action, and creative collaboration. Rojas's work and curatorial projects have been exhibited in galleries and museums across the U.S. and internationally, including Museo del Barrio, Queens Museum of Art, and White Box in New York; New World Museum and Project Row Houses in Houston; Ex Convento del Carmen, Guadalajara; FOFA Gallery, Concordia University, Montreal; Utah Museum of Fine Arts, Utah Museum of Contemporary Art, and Woodbury Art Museum in Utah. Rojas is director of learning and engagement at the UMFA, where he oversees all education, community outreach, and adult programming initiatives for the Museum.
Award Winners
Best in Show – Juror's Vote: Response & Responsibility  – Douglas Tolman and Alec Bang
Best in Show – Faculty Vote: Response & Responsibility  – Douglas Tolman and Alec Bang
Blick Award: A Woman's Quintessential Guide to Grocery Shopping  – Jessica Wyllie
Pictureline Award: Untitled from the Series "Dookie Snookie" #1  – Mikey Baratta
Printmaking Award: Arch – Configuration  – Noelle Olsen
Photography Award: Tree Study (ii)  – Will Betts
Union Purchase Awards, selected by Whit Hollis, Director of Student Services:
College of Fine Arts Dean's Purchase Award: Lived and Relived – Lily Ann Ellingson
Catalog
A catalog of the exhibition is available to view and download online or order a printed copy. All the students with work in the exhibition will receive a printed copy.
The Department would like to thank alumnus, Will Tuddenham, for designing the catalog.  
Online Catalog Purchase a Catalog
This exhibition was made possible with support from the Department of Art & Art History, the College of Fine Arts, and FAF Grants.