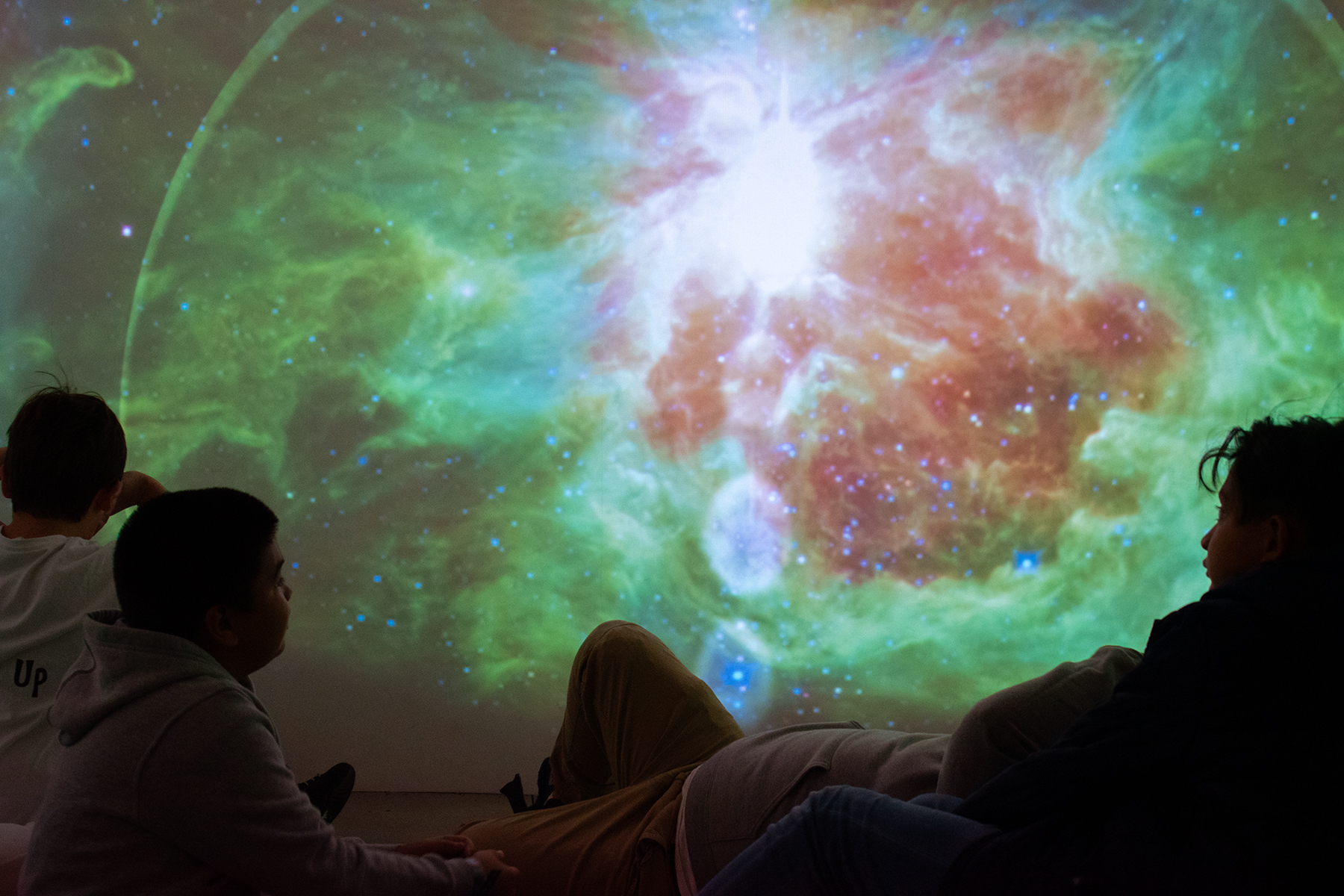 Written on the Wind by Wendy Wischer, Professor of Sculpture Intermedia, is part of Nature All Around Us, a special exhibition celebrating the 50th anniversary of the Natural History Museum of Utah in Salt Lake City, October 19th 2019 – May 25th, 2020. Filled with immersive dioramas, hands-on interactives, and live animals, Nature All Around Us engages all your senses in discovering the wild plants and animals thriving in Utah's cities and towns.
Written on the Wind, creates a multi-sensory experience that travels through 24 hours - from sunrise to sunrise -in 24 minutes. Through an immersive adventure of sound, projected video, animation, and sculptural clouds to relax into, the viewer takes a journey through the cycle of moving from light into darkness and darkness into light.
Wendy began work on Written on the Wind by collaborating with fourth grade students at Riley Elementary in Salt Lake City. Together they discussed their observations of plants, animals, and outdoor places and then created pictures and poems about how nature makes them feel. Viewers to the exhibit are invited to create a poem about how nature makes them feel.
Credits:
Video and animation: Wendy Wischer, timelapse of pink peony by Olga13 and Sacura/Pond5
Original sound composition: Wendy Wischer with music and musical stems, Sunrise and Sunset by Michael Wall, Moonrise and Stars by Austin Booth, At Rest, Soaring and Ever Mindful by Kevin McLeod, The Butterfly by Quality Quest, Into the Ether by Sirus Music and a mix of nature sounds recorded by Wendy Wischer.
Wall construction: John Mack
Photography: Amelia Walchli and Wendy Wischer
Written on the Wind was supported by O.C. Tanner