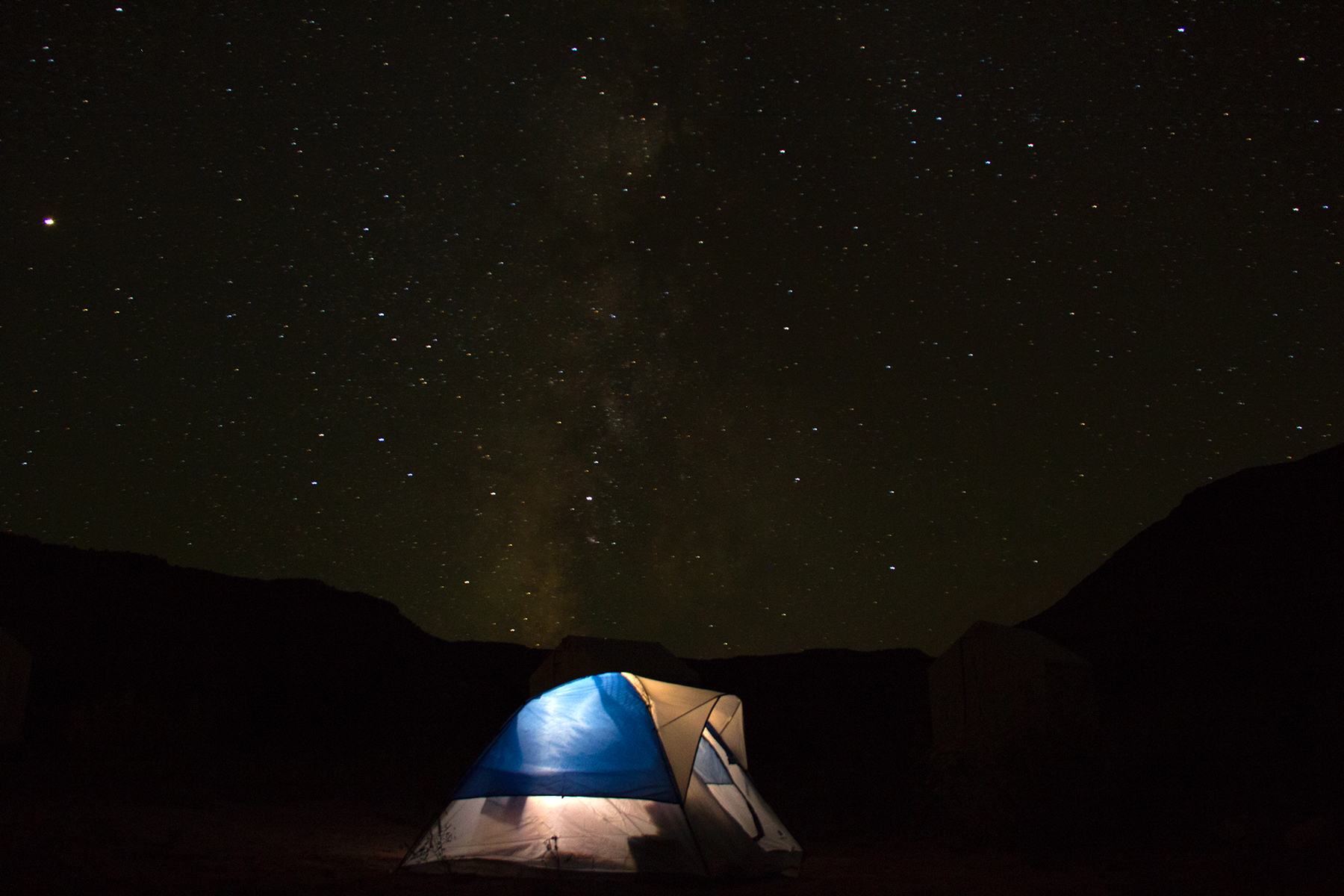 Wendy Wischer's Site, Space & Installation class (ART 4460) recently returned from a trip to the Bonderman Field Station at Rio Mesa. This studio course explores the making of installations, art works which are environment-based and during this trip students explored their artwork for the camera lens in the remote desert landscape of eastern central Utah. The trip started by stopping in Green River at Epicenter to learn how they are using design to benefit rural communities. Upon arriving at the Bonderman Field Station, they began to explore the area, and that night worked with photographing the night sky and creating "light drawings". The next day, the students immersed themselves in creating several artworks in the natural environment, exploring different areas and different materials. They used mostly natural materials that they could find and also combined them with string, fabric, paper, and in some cases their bodies. Based on the history of creating an installation or performance within the landscape for the camera lens the students created an original work of art with its final piece as a photograph or video. Before they left, they had the opportunity to visit the Bird Banding Station and were led on a tour of an archeological site nearby.
Students had this to say about the experience:
"The experience at Rio Mesa gave opportunity for awareness of and interaction with the power force of nature. I had to work with wind, sun, sand, heat and cold. It was a visceral experience and required a relationship involving cooperation and attunement to the physical space and one's presence within that space." -Kate
"Our assignment for the weekend was to create art for the lens. Going outside to photograph manipulated natural materials was not new to me. What made this assignment so special was the place itself. Bonderman Field Station is situated on the Dolores River nestled in a valley surrounded by sandstone monuments. Totally off the grid, we were set free to hear the river, breathe the clean desert air and be inspired by the environment. Talk about sparking the imagination! I felt extremely lucky to attend a university with this kind of facility and faculty dedicated enough to create such an opportunity. This experience will stick with me and influence my art. If students are looking to learn something outside the classroom, visiting Rio Mesa should be at the top of their list." -Kelly
"Being out in nature, waking up with the sun, being disconnected digitally and geographically, and being faced with the absence of constant distraction shook me into a blissed out state of fluttering clarity. I was able to reconnect with myself and the bedrock of my identity; find a quiet place within me to kindle a new kind of fire. The connections and conversations I had with classmates reminded me to get out of my own little world that I've built around myself." -Molly
"This trip has opened my mind to the unique landscape and places of Utah, and has helped me identify myself as someone who is proud to be living in Utah. I made friendships and became part of a community when we worked with each other." -Anita
"Being able to meditate in nature and experience the effect it had on my makers practice was invaluable. Rio Mesa gave me the perfect opportunity to be a muddy savage for 36 hours." -Alec
"This was an intense weekend! Hugely productive for me as I took nearly 900 photo and video clips. I have more material to use for other projects than just the assignment for taking advantage of location. And looking/thinking on how that location influences my artistic choices." -Crystal
"Rio Mesa gave me the perfect opportunity to create art in a visceral manner, completely immersed in a space. I was enamored with the romantic views of the vistas and cliff faces surrounding the river bank and spent the duration of my experience elbow deep in the beautiful clay which accumulates around the water. One of the things I really enjoyed from the trip to Rio Mesa was the bonding with classmates. It's invigorating to be around so many other people who have similar goals in mind, and to see them outside of the class environment. I also loved being able to think and create in a space that is completely foreign. It stretched my mind in ways that often is hard to do when I am leaning on my medium and stylistic comforts in a studio." -Dana
Artwork by Alec Bang, Jennifer Bohn, Nate Francis, Kelly Goff, Dana Hansen, Anita Hawkins, Molly McGinnis, Emily McMurray, and Kate Wingard.