What Can Career Coaching Do for You?
Your professional career coach meets with you one-to-one to ensure you get personalized recommendations that help you focus your career visions and achieve your professional goals. Coaches can guide you in exploring internship and career opportunities, writing strong resumes and building connections with organizations in art, teaching, graphic design, photography, printmaking, and more.
Your coach is ready to walk with you through each stage of your career journey, whether you're a first-year student, ready to graduate, or anywhere in between.
Career coaches provide:
Up-to-date information on companies you'd love to work for
Strategies to make your resume stand out
Meet and connect with employers and organizations who want to meet you
Practice for in-person and video interviewing
Tips on negotiating that all-important entry-level offer
How to Book an Appointment
Meet with your Career Coach and get a personalized boost toward your career goals!
Click on the "Book with..." button that matches your coach by last name below.
A Bookings page opens for you to select the date and time you wish.
Click "Book" to receive a confirmation email shortly with a calendar invitation.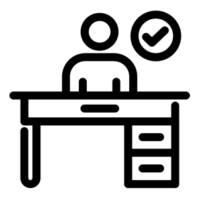 Have an online interview? Our Career Studio rooms are equipped with proper lighting, camera, sound, microphone, and backdrop.