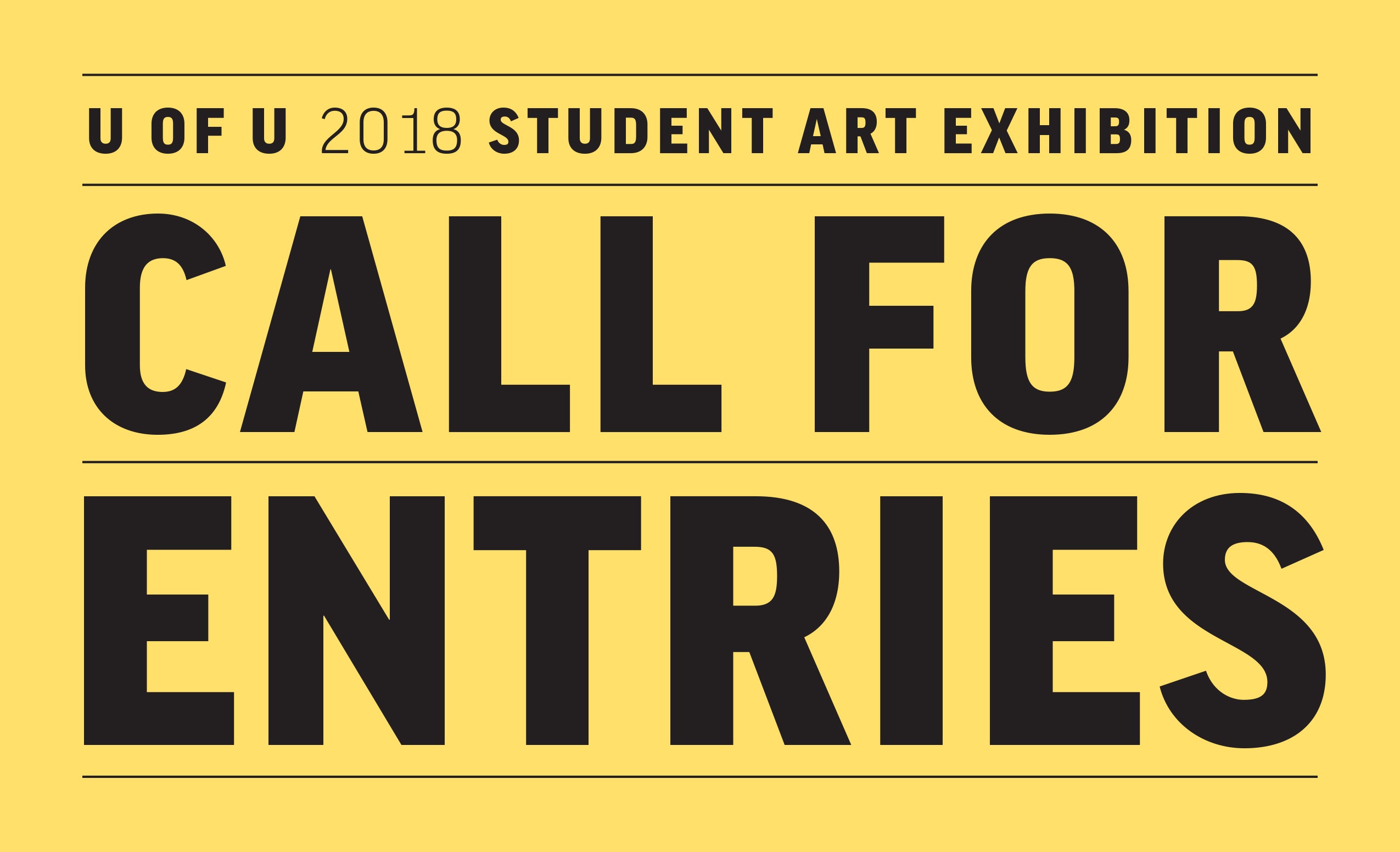 ELIGIBILITY
All currently enrolled U of U UNDERGRADUATE STUDIO ART MAJOR students (all emphasis areas) are invited to submit artwork in any medium.
•Submit 1–3 original works.
•Work must be gallery-ready with picture wire, including all framed work and paintings. No saw-tooth hangers. Wet paintings, loose drawings, or other unfinished works will NOT be accepted.
•3D works should include any preferred display instructions (pedestal, floor, hanging, etc.)
•All work submitted must be clearly labeled with your name, email, and phone.
EXHIBITION INFO
Thursday April 12th — Friday, May 4th, 2018
Alvin Gittins Gallery, University of Utah
Opening Reception: Thursday, April 12, 6:00–8:00p, Awards Presentation at 7:00p
SUBMISSION DROP-OFF
MONDAY, APRIL 2 and TUESDAY, APRIL 3 9:00a — 4:30p
Department of Art & Art History office (ART 161)
JURYING
Jurying will take place on Wednesday, April 4th by John Sproul, owner of Nox Contemporary. Accepted entries will be posted by 3:00 pm on Thursday, April 5th outside of the Art & Art History office (ART 161).
WORK NOT ACCEPTED MUST be picked up on: THURSDAY, APRIL 5 and FRIDAY, APRIL 6 Between 9:00a—4:30p
EXHIBITED WORK must be picked up on: MONDAY, MAY 7 and TUESDAY, MAY 8 between 9:00a—4:30p