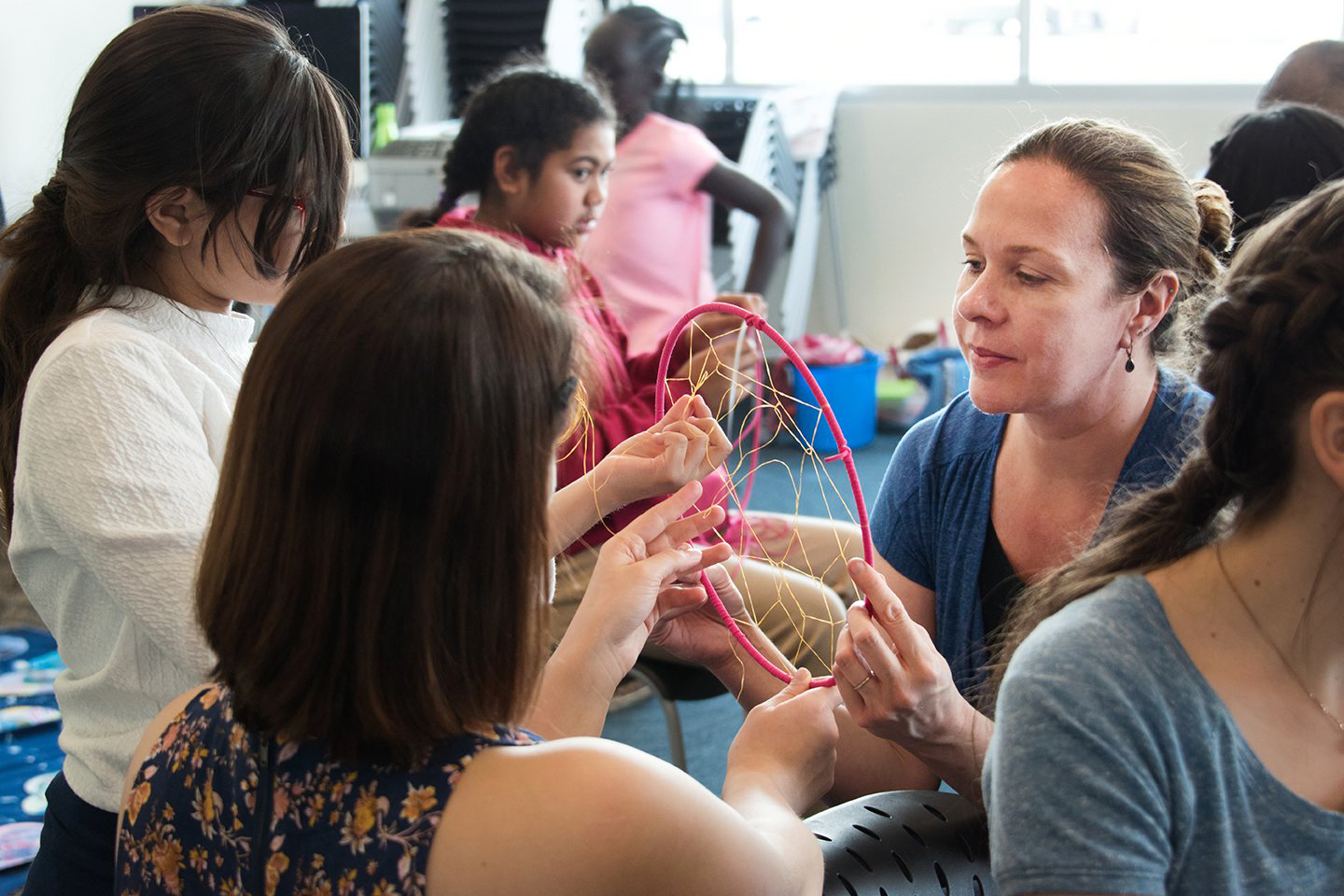 Karen Southam, a 2018 graduate from the Art Teaching program at the Department of Art & Art History, has been named the 2018-2019 Preservice Student of the Year by the Utah Art Education Association (UAEA). The UAEA's mission "advocates for and increases the quality of visual arts education through professional development, collaboration, and leadership opportunities." To be selected for one of their awards is a remarkable honor.
During her preservice program, Karen worked with the Utah Division of Arts and Museums as a member of the Teaching Artist Roster. This allowed her to teach at two separate Correctional Facilities for Women and Men. She said of this experience, "It was incredibly rewarding and I was absolutely blown away by how openly gracious the participants were to have art lessons."
Karen cites the Art Teaching Program as having prepared her for her preservice program. She said, "I think what is particularly amazing about the way Beth Krensky created the program is that we were taught that as professionals we could excel in three distinctive realms. This leaves us with many avenues to pursue for the remainder of our lives if we choose!" She also stated that Art Teaching Program informed her about the Teaching Artist Roster and introduced her to its director through Sandy Brunvand. "Beth and Sandy were extraordinarily positive mentors and modeled every value and principle to us as our Instructors. Going out into the world and practicing art teaching was easy because our classes were loaded with firsthand experiences with all ages and populations of our choosing, and a clear idea of how to effectively spread the value of art with an infectious attitude."
Karen has a strong passion for art as a form of communication, and this is a passion she would like to teach others. She said:
I realized that I want my work to inspire others to see hope in all situations. I also realized that to make art that conveys my message with any integrity, I would need to continually fill that well of inspiration that we all draw from as artists. I felt like working with others in an environment conducive to learning, similar to what I was experiencing at the U, would allow me to share my philosophy that art is a form of communication which can convey meaning that words might never express. It proved true as I started to teach within the program. I started to hear and see triumphs others had made in order to make art. And there is nothing more inspiring than seeing first hand that, despite the struggle, we all keep making art! I am finding that those who have stopped just need a little nudge to get started again. I do believe in teaching the principles and elements of art. Mostly, though, I want people to realize that any gleaned meaning stems from the story of the maker. When I can encourage participants to make from their hearts, we both walk away with our wells overflowing.
In the future, Karen plans to learn to write grants that will enable her to teach art to underserved Salt Lake populations, and to return to the University of Utah to pursue her MFA in Art Teaching.
The award will be presented on February 22, 2019 at the UAEA annual conference in St. George, Utah.
---
Words by Laurel Myler
Photo by Amelia Walchli